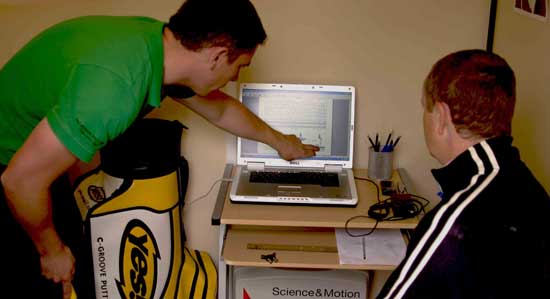 Paul Williams (left) shows Adrian Wheeler the results of the SAM Putt Lab tests
For Adrian Wheeler, a seven handicap member of Oak Park Golf Club, near Aldershot, the prospect of being custom-fitted for a putter was daunting, having already experienced his own DIY version - chopping a couple of inches off the shaft of his well worn Ping Anser!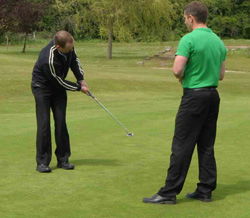 Williams analyses Adrian putting stroke




Ah no, Adrian this is the 21st century. We don't hack lumps off putters anymore in an effort to make it more comfortable for you.

Welcome to the Yes! Golf custom-fitting centre at Pachesham Park Golf Centre near Leatherhead where the professionals are skilled putter-fitters, using the latest computerised technology to match the equipment to the golfer and send them away with a club guaranteed to hole more putts.

Adrian, a 38-year-old re-insurance technician who has been playing golf almost every week for 20 years was one of three Golfmagic members who won a competition on the forum - Jamie Forster from Cheltenham and Jim Stankard from Bristol were the others - to receive a free-fitting and Yes! Golf putter together with a putting lesson.

His visit started with Pachesham pro Paul Williams assessing Adrian's action and measuring the loft and lie of his current Ping putter.

"His eyes are over the target line and his shoulder alignment is bang on," said an impressed Paul. "His stance is slightly narrow and feet aren't quite parallel to the target line which for short putts doesn't matter but for longer putts it could be a problem."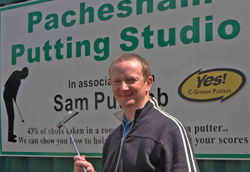 That'll do nicely! Adrian with his Abbie putter prize




After various measurements were taken, his action filmed and the finest detail computed through the SAM putt lab, which identifies the optimum strike off the C-groove face of Yes! Golf putters - in terms of sweet spot, loft, lie and forward roll - Adrian chose the Yes Golf! Abbie forged putter - a traditional cavity back blade originally launched in 2007.

"It was a great eye-opener for me. I didn't realise so much detail went in to custom-fitting a putter. I also have to spend more time practising my putting and remember what Paul told me to keep my hands slightly more forward and reduce the influence of my left shoulder. I don't need to keep searching for solutions anymore, I have the perfect putter for my stroke I've just got to keep practising," said a delighted Adrian.

Jamie and Jim both had their lesson and fitting with Nick Riley a disciple of the of the Harold Swash putting method at the West of England golf academy at Henbury Golf Club in Bristol.

"It was a fascinating day,," recalled Jamie (30) a 15-handicap member of Puckrup Hall Golf club near Tewkesbury. "Although Nick told me my putting stroke wasn't too bad, I suffered from some small aligment issues which had a knock on effect to my putting.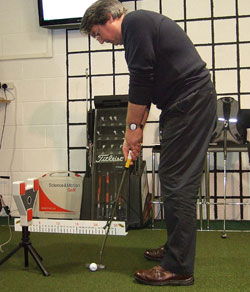 Jim Stankard's putts are recorded by the Sam Putt Lab device




"I was given the option of having my current technique tweaked or going for the full Swash re-vamp. Given this opportunity I decided to be 'Swashed' and left the session with a new grip, new posture, new takeaway and new stance, modelled on David Howell's wide-stance technique with my eyes more over the ball and a squarer stroke.

Jamie also went away with the latest Yes! Golf Ashley putter, with a 32-inch shaft - two inches shorter than his Scotty Cameron Newport.

"It allows my arms to have exactly the same angle to floor as the shaft (74 degrees) which helps to eliminate a pull to the left in my putts."

Jim (54) a digital artist and 20-handicap member of Clevedon Golf Club admitted he had never been measured for golf equipment and was looking forward to what the diagnostics revealed and how they could be used to produce better putts.

"Using state of the art Science and Motion software (SAM) Nick was able to measure every possible angle of both the club and my set up and instant playback on a large screen and explanations by Nick, kept me engaged in what is quite a technical excercise.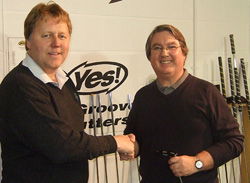 Jim Stankard (right) with Nick Riley and his new Yes! Golf Callie putter




"I have a very simple pendulum-style action and video analysis proved that although I don't quite break my wrists but on my backswing there was a bit of hand lag and replays showed my ball skidding the first the foot or so after impact, " Jim recalled.

"Using the C-grooves on Yes! Golf putters eliminates this feature and Nick also got me to alter my grip - uncomfortable at first - but if it continues to yield results I will persevere," said Jim, who finally opted for the Yes! Golf Callie putter reduced to a 32.5 inch shaft with 2.5 degrees of loft.

"I would thoroughly recommend a fitting session, even if you think you know your putting game. If I take on board everything we discussed I should be at least four putts per round better off! "

Golfmagic.com is grateful to Yes! Golf for their sponsorship of the competition, to Dominic O'Byrne and to Paul Williams (Pachesham Park) and Nick Riley (Henbury Golf club) for their co-operation and advice to our winners.