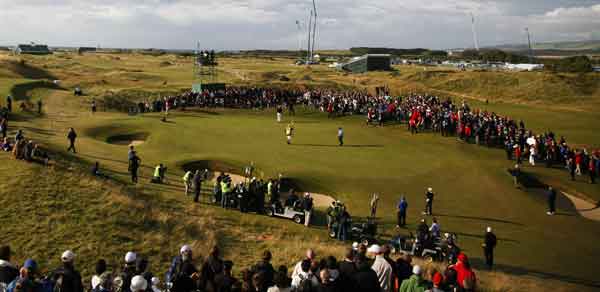 Spectators surround the second play-off hole at the 2009 Open
  While relatively low attendance figures for The Open championship disappointed the R&A organisers, it has insisted that Turnberry will remain on The Open rota. Inaccessibility, lack of local accommodation and wall to-wall TV coverage have been quoted as possible reasons why fewer fans than previous Opens, turned out to watch Stewart Cink defy Tom Watson in an amazing climax.
Profits from the 2009 tournament are expected to be lower than at Royal Birkdale 12 months ago but according to David Hill, the R&A's director of championships, the game's governing body is not unduly worried.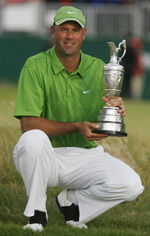 2009 Open winner Stewart Cink




"Does it worry the R&A financially? I don't think so if you take a 10-year view," he says. "The players love Turnberry. It's a fantastic course for spectators, except that it's in a remote location in comparison to other venues."

Around 123,000 spectators made the trip to Turnberry and Hill confirmed 'we budgeted for about 115,000.'

"Next year at St Andrews we'll have close to 200,000, while Muirfield in 2011 will have about 160, 000. It just reflects the location."

He added: "When you take into account our media income and our total income, it really isn't a huge drop at all."

The clash of dates with cricket's Lord's Ashes Test with Australia may also have effected attendances, said Hill.

"It was disappointing for sports fans throughout the UK that The Op[en clashes with the Ashes, but the England Cricket Board's fixture calendar in recent years has become very crowded and they were under pressure. However, because it was on non-terrestrial television, at least six or seven times more people watched The Open on the Sunday than the Test match."