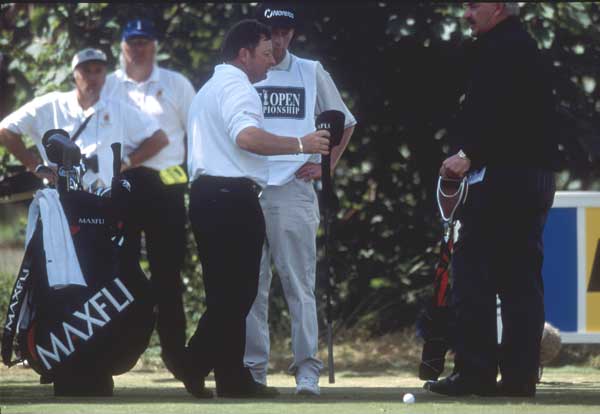 John Paramor (right) gives Ian Woosnam the bad news that he's penalised for having too many clubs in his bag when leading the Open at Lytham in 2001
 John Paramor has been a Rules official with the European Tour for 33 years and currently its chief referee. He's a co-founder of Sidaro - a Rules of Golf system that can be available on your mobile phone and which was launched this week. Sidaro also features a rules quiz, golf news, live scoring and personalised stats records.
We asked John, who will be part of a panel of rules experts available to answer specific Rules questions from members who join the scheme, about his involvement in the Rules of Golf and some of the incidents over which he has had to adjudicate.
How did you get involved in the Sidaro project?
I was contacted by a Wentworth member who had an idea for a Rules quiz for a mobile phone and would I come back with some ideas of how it might work best.
What interested me most was the opportunity for golfers to learn the Rules in a different way and using a language that is easily understood. Yes, there are rules quizzes elsewhere but people ask about the Rules of Golf in different ways - referring to shots and hits instead of strokes so I thought this was a chance to make the Rules more easily understood, giving practical examples and putting it all in easy-speak.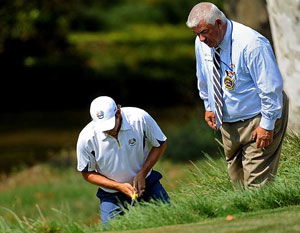 Damn lies - Paramor with Sergio Garcia during the 2008 Ryder Cup
There are 2,300 questions on the Sidaro site. Did you think them all up yourself?
I have to admit I did seek the help of a couple of refereeing colleagues from the European Tour but we really enjoyed the opportunity; it was a lot of fun. We saw it more as a simple way to get golfers to know the Rules and understand them clearly. To get people thinking.
You've told me in the past that Danish golfers on Tour seem to have a clearer understanding than any nationality of the Rules. Why do you think that is?
It is still the case but all the Scandinavians seem to have a clearer appreciation of the Rules. I think it's because they have a more intensive training when they first come into golf. As an amateur, they have to get a licence to play and the Rules are part of that. It's like a licence to drive and a very good idea that others could adopt. They take the Rules very seriously.
When did you first become sufficiently interested in the Rules to make it a career?
I was always fascinated by the Rules as a young player - and like most golfers today could never find the situation I wanted in the Rule Book. But I tried to understand the 'why' of a rule as well as what and where it was. In April, 1976 I joined George O'Grady and Tony Gray as a European Tour referee and in 1979 ran my first event as tournament director. Sadly I never completed it as my father was taken ill that same week.
Have you had any incidents on Tour recently?
In the Wales Open I had some situations with Richie Ramsay, bless him! As you recall there was a lot of rain at The Celtic Manor. He was taking relief from casual water but was pressing down with his foot to find a place from which to hit his shot and then placing the ball instead of dropping it as he should. I explained to him that on TV it looked awful but it wasn't not enough to apply an automatic penalty.
What about at The Open?
We had a situation in the first or second round with Bryce Mulder from the US. He putted to the edge of a hole and it looked like it would drop but when he reached his ball, the Rules official with that game started his stop watch because he's allowed only 10 seconds for the ball to drop and count as being holed out. Mulder waited, claiming the ball was moving and it finally dropped after 16 seconds. We explained he had to add a penalty stroke even though some of his fans disagreed.
What's the most common rule you're asked to adjudicate over on Tour?
Temporary immovable obstructions. At every event there's scoreboards and grandstands which can get in the way of a shot. It's a local Rule on Tour and we're always getting calls for those because as a line of sight rule, it can be very complicated.
Ever made a ruling that you've regretted?
Yes, one. It involved Simon Kahn at the European Masters in Switzerland in 2000. It was a technical change of ruling that I wasn't fully aware of at the time. It involved the substitution and dropping of a ball and putting the wrong ball in play. I wrongly disqualified him. But as soon as I found out I was wrong I wrote to him and apologised.
You're perhaps best remembered for that ruling at the Volvo Masters at Valderrama when you wouldn't give Seve Ballesteros relief from what he thought were marks from a burrowing animal at the bottom of a tree on the 18th.
Yes I suppose that was a defining moment!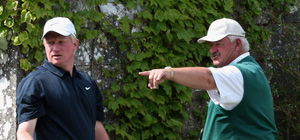 Paramor points the way for Richard Finch
Are there any daft Rules you would prefer to be removed?
Not daft rules as such. But there are areas where let's say there's a disagreement between the R&A and the Tours.
The Tour feels there are occasions where we could add penalty strokes before the event finishes instead of disqualifying a player for signing for a wrong score immediately after a round. But they don't want to dilute the Rules by acceding to a request that could dilute a player's obligation to play to The Rules.
When we watch tournaments on television it seems that there's a lot of 'gardening' going on around the hole that isn't strictly repairing of pitchmarks. Contrary to the Rules the rest of us play to, are Tour players allowed to repair spike marks?
Repairing of spike marks on a player's own line of play or an extension of it, doesn't happen. However, players are allowed to repair any pitchmark to their satisfaction and when a player has completed a hole he can repair any damage on the putting surface - even though it's on the line of a player still to putt or an extension of it.
Sidaro is available direct from your mobile phone, compatible with more than 1200 handsets, as well as the web and WAP. Since its launch at The Open, users can gain access to Sidaro by visiting www.sidaro.com and downloading a free 14-day trial. Golfers can then access Sidaro as a mobile or a web-based service and enjoy synched interaction between your phone and computer. After the free trial, standard costs will be £5 per month charged directly to a mobile phone bill or via credit card, or £29.99 per year via www.sidaro.com charged by credit card or PayPal.