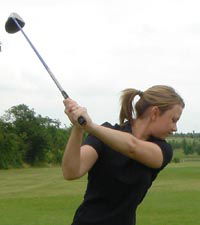 Rachael Reynolds in action
A year ago, Rachel Reynolds from Leicestershire received an emergency kidney transplant. Next week the 20-year-old eight handicap golfer will represent her country in the World Transplant Games in Canada.
And the hairdresser and beautician is one of the favourites to come home with a gold medal.
As a baby she was diagnosed with a rare virus, which damaged her kidneys and the condition got progressively worse until in May last year her mum Sue donated one of her own kidneys to save her life. Her brothers are also compatible donors and may well be called upon to offer an organ in the future.
Inspired by her father, Rachael started playing golf, aged 15 and before falling ill, was a member of England's development squad. Now she's fit enough to resume her hobby and heads for London, Ontario to join up with 2,000 competitors from over 55 countries.
Andy Dunbar, England's girls team coach comments: "Rachael is an inspiration to anyone. I can't believe how quickly she got back on the golf course after the transplant. As well as the Transplant Games she has her sights set on the full England squad. Anyone who doubts the importance of organ donations should look at Rachael as a perfect example of their success."
Adds Rachael: "Making it onto the British Transplant team is a clear indication of my return to full health and commitment to golf. It's a fantastic event and raises awareness of the success stories behind organ transplants.
"My dream is to get into the England squad and eventually turn pro. It's what keeps me going and I've come through a lot to get this far. My family have come through this journey, too and they will be in Canada to cheer me on."
In the UK alone, 5,000 people are waiting for a transplant and the British team hopes to encourage people to sign up to the National Donor Register.