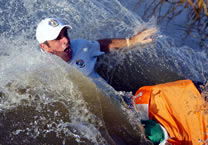 McGinley celebrates Euro win in 2002.




Qualification for the European team for the 2004 Ryder Cup may not have started – nor the captain selected – but the PGA of America is already offering the opportunity to buy tickets.

Ticket applications for The 35th Ryder Cup matches to be played at Oakland Hills Country Club, Bloomfield Hills, Michigan, USA, from September 17-19, 2004 are now being accepted. Free registration for tickets began online yesterday at www.rydercup.com (May 27), and entries will be accepted until August 15, 2003.

The PGA of America expects the demand for tickets to far exceed their ability to accommodate all requests so are going to implement a random ballot to determine ticket purchasers, much like that introduced by Augusta National for tickets to US Masters practice days.

The ballot will be held on September 30, 2003 and successful candidates will be advised from October 15, 2003. There'll be a limit of 38,000 spectators per day, but unlike previous Ryder Cups, daily tickets will be available, which will allow more fans to experience the event.

You can buy a maximum of two weekly tickets or four daily tickets per person if you are selected in the ballot, and you'll be charged for the tickets on October 1, 2003. If you're one of the lucky ones, you can pay by MasterCard, Visa or American Express.

The three ticket options are:

1. International Pavilion ticket ($425) which allows access to all six days of the Ryder Cup matches, opening ceremony and the International Pavilion in the grounds of Oakland Hills Country Club. ('There will be elaborate décor, big screen televisions, upscale food and beverage, outdoor patio and a festive atmosphere unique to the climate controlled Ryder Cup International Pavilion,' according to the brochure).

2. Season ticket ($275) allows access to all six days of the Ryder Cup matches and the opening ceremonies.

3. Daily grounds tickets are available for Tuesday ($40), Wednesday ($40), Thursday ($75), Friday ($85), Saturday ($85) and Sunday ($100).

Official Ryder Cup travel packages, which include tickets to the matches and accommodation, are available through Ryder Cup Travel Services - the official travel company of The European Ryder Cup Team – (+00 44 161 486 1600) at The De Vere Belfry.

Qualification for the European team starts at the Omega European Masters at Crans-sur-Sierre, Switzerland, from September 4-7 and a change in the system means the top five Europeans earning the most world ranking points in the next 12 months will automatically qualify.

Five more will qualify via the traditional Ryder Cup points list based on the Volvo Order of Merit, and the captain (to be chosen between Bernhard Langer or Ian Woosnam in July) will pick two wild cards. All team members required to be European Tour members.

Picture courtesy of Sport Photo Gallery.