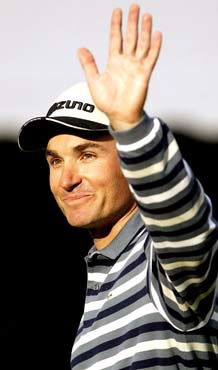 Garrido – acknowledges victory at Wentworth.
What a delight to see Ignacio Garrido claim a somewhat unexpected win at the Volvo PGA Championship at Wentworth at the weekend, beating South African hot-shot Trevor Immelman at the first extra hole.
Behind that baby-faced, gap-toothed exterior beats a fearless heart of steel underlined by his well-documented collection of spiders and poisonous insects.
I first met him at a dinner in Spain in 1994 just after he'd qualified for the Tour. He was called up as a 'coy volunteer' from an audience of rookie pros to help a Malaysian-born fitness guru show off his martial art expertise with a pair of chain-linked batons as part of the cabaret.
Ignacio, known as 'Nacho' by his mates on Tour, looked nervous as he stepped up and the 'expert' wheeled the sinister-looking implements around his head and body and then asked the young Spanish golfer to try to copy him.
At first Garrido appeared clumsy then suddenly started his own routine which put his teacher's routine in the shade. However, what the master knew – and the rest of the audience didn't - was that this shy-looking golfer had completed his national service in the Spanish military police and achieved a black belt in Tae Kwon-do.
His victory in the Volvo German Masters earned him a call up to the 1997 Ryder cup at Valderrama where he competed with distinction but since then he had failed to re-kindle his form finishing no higher than 31st in the order of merit.
However, the combination of his girlfriend Samantha Head, one of the golfing twins (with sister Jo) on the Evian Ladies Tour, and his coach Domingo Hospital, the 31-year-old from Madrid has been getting closer to re-establishing himself.
He told 'The Independent' that a book 'The Seven Spiritual Laws of Success' had helped him focus on his mental attitude. He'd only read four so far but they had already done the trick.
"The little book told me to enjoy myself and enjoy life because you can enjoy the good and the bad, and things will come. It happened exactly that way."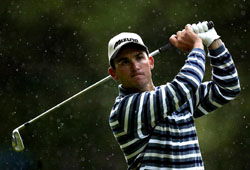 'Nacho' with his 'chunky' Mizunos.
He also revealed that he had pulled off the biggest win in his career – a five-year exemption on the Tour and £414,000 cheque - using an iron designed for the club golfer.
The Mizuno MX-20 with its undercut cavity design was originally designed to provide club golfers with a forgiving forged iron. With its larger face and low centre of gravity it produces great results, even when not struck from the centre.
"Ignacio has built a game designed to cope with exactly this situation, " says Mizuno's Tour manager Andy Kikidas. "The new swing and irons let him get through the pressure. Few of our players would consider using as chunky an iron as the MX-20 but I'm sure will be re-considering."
One final secret about Garrido, who caddied for his father Antonio (now on the European Seniors Tour) as a 13-year-old…those long-sleeved Lacoste shirts he always wears.
"It's not true that I'm allergic to the sun on my arms. It's just that my dad used to have a shirt contract and he always gave me the long-sleeved ones he didn't want. I got so used to them that short-sleeved shirts never felt right. Now I suppose they are part of my trade mark."
Good luck to 'Nacho', one of the Tour's really pleasant characters, who flies in the face of the adage that nice guys always come second.