USPGA coverage in
association with Gore
Rich Beem's victory in the US PGA Championship, where he held off a late rally by Tiger Woods, will suddenly create a rush on a weird-looking putter.
Beem, son of a Texas golf professional, showed terrific nerve to first overtake his playing partner Justin Leonard, then, with Tiger

Rich Beem
- major title.
on a charge, stave off the world No.1 who finished with four successive birdies. A great early birthday present for when he hits 32 this Saturday.
The putter (below) grabbed everyone's attention when Beem holed from 10 feet at the 11th to record the only eagle of the week on the monster par-5. Then, needing to steady the ship on the 16th, found the fairway with a 7-wood off the tee, found the green with an 8-iron and the bottom of the cup from 35 feet.
It was a fairytale result for Beem, who quit the PGA Tour in 1995 to sell mobile phones. His pal JP Hayes gave him inspiration by winning the 1998 Buick Classic and Beem claimed the Kemper Open the following year.
Two weeks ago he won The International modified stableford event but the US PGA Championship was almost beyond his wildest dreams, even though he admitted he was the first to play an official practice round at 7.15 on Monday morning.
His final round 68 gave him a 10 under par total – one clear of Woods and five ahead of Chris Riley, who secured his place in the 2003 US Masters at Augusta. Leonard finished in a tie for fourth with Fred Funk. Top European was Sergio Garcia (68) on one over par.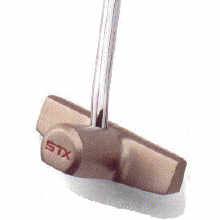 STX Sync Tour putter.
Beem used a STX Sync Tour model, originally brought into the spotlight by Seve Ballesteros and Jesper Parnevik and which at first glance resembles a branding iron.
Centre shafted and with a bulbous weight behind the blade it has a rubber compound face insert which creates a soft feel off the clubface, but perhaps more suited to ultra-fast greens found at Hazeltine National, than your average municipal track.
I've checked dozens of reviews of this putter and the overwhelming view is that it's an acquired taste and suited more to single figure golfers than high handicap hackers.
But don't expect that to put off golfers seeking a club to help them discover the golf green's Holy Grail - much as the Odyssey Two-Ball putter has done.
Its small sweet spot demands a precise, repeating putting stroke. Though the balance of the club tends to promote a pendulum, back and through stroke, as opposed to heel-toe weighted putters which can leave the face open at impact, the STX Sync Tour putter demands total concentration.
*If you own, or have tried the STX Sync Tour putter (best price we found was £79.57 from UK Golf Discount), tell us on the Forum.