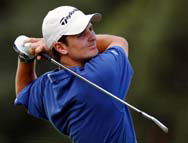 Rose - -encouragement.
Four of Britain's top golfers, including Justin Rose, Lee Westwood, Ian Garbutt and Solheim Cup star Mhairi McKay all have something in common – each was a Golf Foundation Age Group Champion as a child.
And all have been grateful for the stepping stone it provided in shaping their careers.
The Weetabix sponsored event was held again recently at the Marriott Forest of Arden course with over 100 children aged between 10 and 17 took part in the finals – short-listed from an original entry of thousands.
Said Rose, who has won four tournaments this year and been elevated into the world's top 50 golfers: "Winning the Age Group championships in 1993 gave me the encouragement to take my game to the next level.
"I remember how much I enjoyed the tournament and how much winning meant to me. The championships are very important for developing junior golfers because it's at this early age that we need to nurture their talent and enthusiasm. We need to maintain their interest in golf and prevent losing talented players to other sports.
Played off scratch over two rounds of the testing course near Coventry, the championships will, hopefully, provide a lift to all the competitors, especially the emerging talents of Melissa Reid from Chevin Golf Club and John Parry from Harrogate who won the Duke of York overall trophies.
Melissa, emulated another former winner Curtis Cup heroin Rebecca Hudson by recording rounds of 70 and 73, while John followed a 70 with a 67 for a one under par total of 137. Each also won their respective Under 15 and under 16 age group titles.
Youngest competitor in the final – golfers as young as six took part in qualifying – was ten-year-old Mikhail Ishaq from Bondhay near Worksop Derbyshire. The 13 handicapper came fifth in the Under 13 section.
Other winners were: Boys: Under 13 –Nicholas Eardley (Burslem); Under 14 –Matthew Swales (Bowood); Under 15 – Lee Lewis(Fairwood Park). Girls: Under 16 - Anna Scott (Consett & District); Under 17 – Janet Phipps (Gog Magog).
European Tour players Jeremy Robinson and Steve Webster – himself a former Age Group competitor – were impressed by the quality of play.
Said Webster who helped with the TaylorMade/adidas golf clinics at the event: "I love being involved like this. It's great to be able to help junior golfers, just as I was assisted in my golf a few years ago."
Added the Golf Foundation Mike Round: "This year's finals were a huge success and we are grateful for the support we receive from Weetabix, which allows us to host such a prestigious tournament. It's an influential event and an important part of the work we do supporting the development of the game in the British Isles and Ireland."
*'For more information on the Golf Foundation Weetabix Age Group Championships, please call the Golf Foundation on 01920 876 200 or visit www.golf-foundation.org '