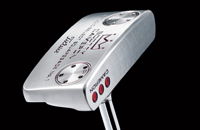 Scotty Cameron by Titleist Newport Squareback putter
With scientific efficiency and attention to minute detail, the engineers at Scotty Cameron's California putter studio have been tweaking its Newport range of flat sticks to come up with four more variants, which they believe are capable of slicing even more shots off a golfer's round.
In February Titleist's renowned putter designer, who despises the idea of players chopping millimetres off shafts or adding weights to the sole of his putters to customise them to their own specifications, introduced a Newport 2 range with a selection of shaft lengths and weight combinations.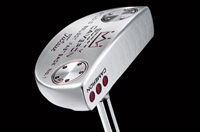 Scotty Cameron by Titleist Newport Fastback putter




You would have thought he had all bases covered but now the man who designs the putters used by the world's No.1 golfer has introduced four more Studio Select models - the Newport Squareback, Newport Fastback and Newport 2.6 (centre shafted) and Newport 2.7 (heel shafted, pictured top right).

Each is made from precision milled 303 stainless steel with heel/toe screw weights, which Cameron says 'increases stability by reducing head rotation on off-centre impacts and allows for multiple length options in each model.'

The new additions all feature the distinctive bold red graphics and red Cameron cord grip as well as an improved, Studio models' high toe profile to help eliminate a golfer's the tendency to raise the toe at address and aim left of target.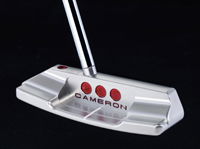 Titleist by Scotty Cameron Newport 2.6 putter




The new Scotty Cameron Studio Select putters will be available from October with a price yet confirmed but expected to be around the £220 mark recommended for their Newport 2 predecessors.

The Golfmagic.com forum is currently discussing 'What Putter' you're currently using. Why not join in.

*We want to know about the clubs in your bag - as well as the balls, shoes, waterproofs. Submit auser review to help other golfers make informed choices.

And if you've got equipment to buy or sell second hand or even swap you can do that too, in our new and improved classified/swap shop section.