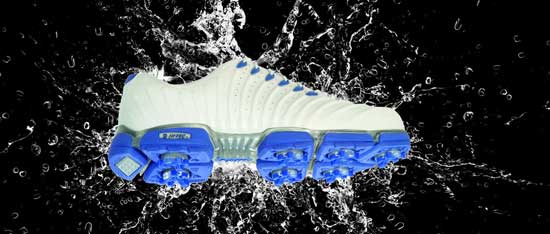 Hi-Tec's Pure Power WPi shoe with 'ION Mask' waterproofing technology
Hi-Tec, one of the top golf shoe brands, claims it has taken waterproofing to the next level with its 'ION-Mask' system which earned it a best in show innovation award at the Golf Europe exhibition in Munich this week.
Judged by leading industry experts, the Hi-Tec Pure Power WPi shoe, which features the 'ION-Mask' system, scooped the award ahead of its scheduled launch in 2009. This year's Open and US PGA major winner Padraig Harrington has helped to design and develop the new shoe.



The latest Hi-Tec ION-Mask technology shows how droplets of water won't penetrate the treated glove leather




Hi-Tec's designers worked on a process whereby leather fibres are treated on a molecular level, to make them both waterproof yet breathable making the shoes much less absorbent to liquids and quicker drying.

The makers claim the treated shoes do not absorb as much water in wet conditions and on average are 35grams lighter than shoes with a membrane. The process also helps to repel dirt and reduce staining keeping them cleaner for longer, says Hi-Tec.

The process has also been introduced to a range of Hi-Tec gloves and outdoor walking boots.

The award winning Pure Power WPi shoe will be available from May 2009 in white / silver and white / cobalt with a suggested price of £109.99.

Look out, too, for FootJoy's latest SYNR-G shoes, also highly commended by the judges for its technology and likely to be available in the New Year.

*We want to know about the golf shoes you're currently wearing - as well of course, as the clubs, balls and waterproofs you use. Submit auser review to help other golfers make informed choices and for the chance to win one of three Spherical Blade putters we're giving away for the best reviews during October and November.

And if you've got equipment to buy or sell second hand or even swap you can do that too, in our new and improved classified/swap shop section.