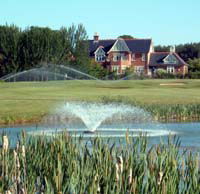 Wynyard – Seve Trophy venue
Starved of top international professional golf since The Great North Open in 2002, the North East of England has got back on the map and will host the 2005 Seve Trophy.
Wynyard Golf Club at Stockton-on-Tees has been chosen as the next venue for this prestigious event in which Great Britain and Ireland's top golfers will defend the title against the rest of Europe in matchplay pairs and singles competition.
The four-day Ryder Cup-style event, organised jointly by MediaPro and Seve's Ballesteros' management company Amen Corner and run in conjunction with the European Tour, will be held over the stunning, 7,043-yard parkland course in the Tees Valley's exclusive Wynyard Estate.
It is estimated that the competition, last won by GB&I at El Saler, Spain last year, will generate £10m for the local economy and will create nearly 100 new jobs in the region.
Ivan Ballesteros, general manager of Amen Corner, said: "We are delighted that the Seve Trophy will return to England and we believe Europe's leading players will warm to the North East and its hospitality."
One NorthEast has led the bid to bring the event to the region and Alan Clarke, its chief executive, said: "Securing this fantastic sporting event for Wynyard Golf Club is a huge boost for the Tees Valley and the region. It's one of the biggest sporting tournaments ever staged in the North East."
Wynyard managing director Gary Munro, whose father was a golf professional, told Golfmagic: "This is the biggest day in the club's short history and we are thrilled to have secured an event of such international stature.
He said a final date had not been fixed but he expected it to be September 2005 and is hoping Seve Ballesteros, would make a visit to the course later this year.
"We are an ambitious club and will make sure that the European Tour stars are given a fantastic welcome with a course to match."
De Vere Slaley Hall Hotel and Golf course was unsuccessful in its rival bid to stage the trophy, which attracts Europe's leading players competing for places on two ranking lists throughout 2004/5.