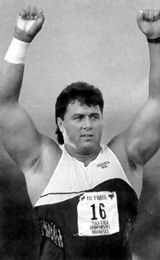 Randy Barnes – gold medallist
Former Olympic shot putt gold medallist Randy Barnes is now swinging golf clubs for a living – and proving very successful.
Barnes, who won gold in Atlanta in 1996, was recognised on the range, warming up for the qualifying round of the ReMax world long driving championship in Maryland by AccuFLEX Elite long drive team member Greg Walker, who immediately spotted the ex-Olympian's potential with a club in his hand.
"I won the qualifier," said Walker "and was hanging around to check out the competition, when I noticed this big guy who looked vaguely familiar, hitting balls.
"After he'd finished, I introduced myself and learned who he was. I remembered his dramatic come-from-behind, last throw victory in 1996 and looking at his golf swing, I noted that he shares the same talent that several other long drive competitors have, with a track and field background.
"They've got explosive rotational power and obviously a world class athlete like Randy has the work ethic and dedication to excel at any sport and his strengths should serve him well in driving the golf ball.
Added Walker: "The fact that he was so humble and sincere made me confident enough to give him my personal endorsement when we signed him up for the AccuFlex team. I know that he will represent us with class and dignity. I also think that he has the potential to be one of the top competitors in the sport within the next year or two."
Barnes (38) was thrilled to find a new career: "I am very excited to be joining AccuFLEX and want to thank Greg, Steve Zunich and Jody Baucom for believing in my potential and providing me with this solid opportunity. I've got a lot of hard work ahead of me and I can't wait to get started."
Barnes won a silver medal for the US at the 1988 Olympics Korea and capped off his Olympic career by winning gold in Atlanta, aged 30. He still holds both the indoor and outdoor world records in the shot at 74 feet, 4.25ins and 75 feet, 10.25 ins.
As well as joining the AccuFLEX team. Barnes also hopes to compete in the ReMax World Long Drive finals in October at Mesquite, Nevada.
Tell us on the forum whether you think golf deserves a place in the Olympics.