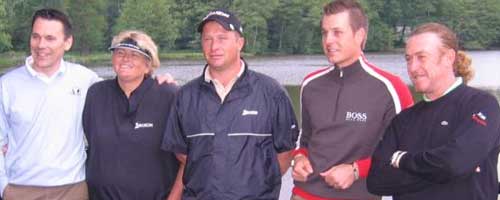 From the left:Rob Lee, Laura Davies, Greig Hutcheon, Henrik Stenson and Miguel Angel Jimenez at Silvermere



After spotting a news item about a Srixon Shoot-out in Golfmagic my son Ben and I headed for leafy Silvermere this week to witness a clash of titans, all of whom play Srixon golf equipment. For Ben it proved to be a special day.
The event conjured up images of dusty corals, spurs and six guns aimed from the hip but this shoot-out was to be at pins in six selected holes at one of the most popular golf centres in Surrey.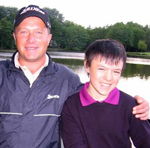 Greig Hutcheon with Ben White




In conjunction with Merecedes-Benz, Srixon set up a skins match between Rob Lee, a former Tour winner and now Sky Sports golf presenter and golf legends Miguel Angel Jimenez, Henrik Stenson and Laura Davies. But with the Swede not well, Scot Greig Hutcheon, with two top five finishes on the European Challenge Tour this year, stepped in at the 11th hour to take Stenson's place.

Before the main event, two lucky competition winners got the chance to have a 20-minute private lesson with Davies and Jimenez. Both Christine Fisher and Simon Brockelhurst really appreciated the tips they were given from Davies and Jimenez respectively and both showed much promise by the end of the session.

As the crowd moved towards the first tee, everyone was handed a raffle ticket and as each player was introduced, each picked a ticket and it was announced that they would play on behalf the holder. The event took on a new meaning for us as Greig drew 14-year-old Ben's ticket.

The first at Silvermere is a tree-lined par-5 which dog-legs right to left. A good drive favours the right side of the fairway to avoid being blocked out by trees on the left. Davies and Jimenez both blocked themselves out to the left and Lee hook even deeper into the trees but after extricating himself from a bunker produced a glorious high draw to within five feet, showing he still has talent both on and off the course. Eventually the Spaniard holed a monster putt for birdie which had him 'sheathing' his putter as if it were a rapier to match Hutcheon's score.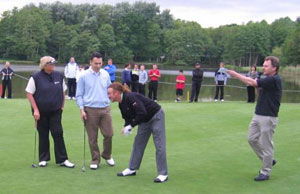 Davies, Lee and Jimenez during the shoot-out




The par-3 second was halved with Jimenez holing a pressure four-footer and at the third (Silvermere's 5th) a tricky sloping green deceived everyone for another half.

Silvermere's sixth, a tight downhill par-4 with its narrow fairway fringed with trees, served as the fourth shoot-out hole and all hit the fairway except Lee, who again four trees. With Hutcheon only making par, Ben held his breath as Davies and Jimenez conspired to miss their putts to great amusement from the crowd.

Silvermere's two signature holes - 17 and 18 and both played over a lake - provided a dramatic conclusion. The par-3 17th green slopes towards the water and only the Spaniard found the dance floor (for a tap-in par) and as Hutcheon's tricky par-save slid agonisingly wide, Davies saved the skin by holing a brave breaking putt - known by many golfers as a 'Denis Wise' ( 'a nasty little five-footer').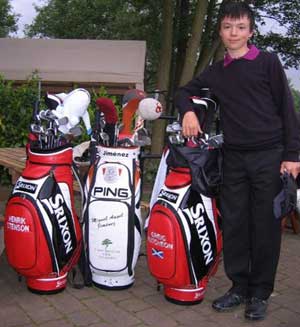 Ben White stand proudly with his new heroes' bags




Ben's man was still in it as the group moved to the final hole, which demands an accurate tee shot to set up a right-angled approach to an island green. And with Jimenez effectively out of it after an over-ambitious tee shot, it was announced the winner would be decided on the nearest approach shot to the pin.

Ben held his breath as Hutcheon's approach finished about 10 feet away and then was relieved to see Davies failed to match him and Lee find the water.

As Davies then missed her birdie attempt, she conceded Hutcheon's putt by throwing his ball into the water with Ben the new recipient of an eye-bulging prize of a red Srixon Tour bag, holdall, utility club, wedge and driver - plus a driving experience at Mercedes-Benz world (hopefully for his Dad)!

Throughout the evening, everyone was so impressed by the players' releaxed and informal approach as they gave running commentaries on each shot they attempt and their mindset. It was fascinating to watch and listen as they took every aspect of a shot into consideration – the lie, how the ball was sitting, how much grass was under the ball, the firmness of the ground, uphill or downhill, wind strength and direction.

What was also noticeable was that each had their own idiosyncratic pre-shot routine. Jimenez with his characteristic round the body swish while Hutcheon gave a more meticulous club waggle.

It was a night to remember.