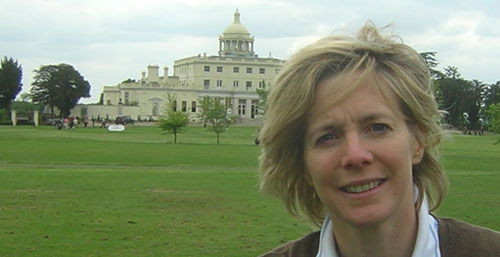 Hazel Irvine at Stoke Park this week
As one of BBC Sport's most versatile and experienced broadcasters, Hazel Irvine is the face of snooker, ski-ing and athletics. She will also be covering her sixth successive Olympics in Beijing.
But what many may not realise is that she has presented golf for 16 years and in July will again front the corporation's coverage of the Ricoh British Women's Open at Sunningdale. Hazel is also a keen golfer since her time as a graduate studying history of art at St Andrews University.
Golfmagic caught up with the popular presenter as a guest of Golfbreaks.com's 10th anniversary golf day at Stoke Park this week.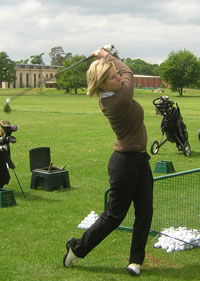 Hazel Irvine's stylish swing
Compare presenting golf and snooker - the differences and similarities.
Snooker and golf are very similar as sports in being what I'd call 'still ball' games. They both involve rhythm and habitual action which seems to pull you through in moments of tension and that's the fascinating thing for me.
A lot of the guys in golf (and snooker) and the women golfers, too have honed their game until, technically, they are virtually perfect. They'll say that they have to tweak their games - and they do - but for me what's really fascinating is that they are into the realms of the mind.
How you control the technical aspect and how your brain copes with the pressure is what that engages me. When it comes down to the nitty gritty.
We see it in golf and we see it particularly during the 17 days of the world snooker championships in Sheffield. At the end of the tournament these guys are absolutely punch drunk. It's a case of last man standing, who's will is stronger and who can control their functions. It's tiring for the presenters and analysts, too.
Talk about some of the people in golf and snooker who really fascinate you
You have those who are gregarious and express themselves and those who internalise all their emotions.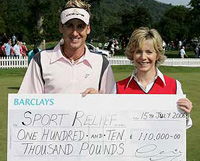 Hazel receives a Sport relief cheque from Ian Poulter




In golf there's Ian Poulter. I love talking to Ian who is unfailingly honest in his assessment of his own game. I really appreciate that. For me he's one of the best characters in the game, not just because of the way he dresses but because he is brutally honest and because you know you are going to get a fantastically truthful and sometimes self-critical answer to your questions.

Other golfers are quieter and much prefer to keep their emotions to themselves, which sometimes means it can be like pulling teeth but you have to respect that some people don't want to expose all their emotions to everyone after a round or a snooker session. They want to think about it rationally and then come back the next day.

In snooker, Stephen Hendry is someone who thinks deeply about the game and has fantastically high standards of himself. If he gets something wrong you can see how much it hurts him because he's used to being perfect.

I love his approach to the game because he's so professional in every aspect of the game, even around the practice table.

You seem to enjoy working with some real characters in the snooker coverage - many of whom are also keen golfers.

Absolutely. With John Parrot you never fail to hear him around the Crucible Theatre (which hosts the World Championships) without hearing his laughter first. He's a funny, funny man but I'll tell you what he's a bull of a competitor.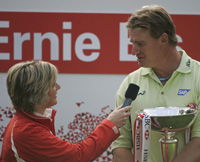 Hazel interviews, and is dwarfed by, Ernie Els at last year's World Matchplay




He didn't become a great champion for nothing and he didn't get there by laughing. When you get into the back end of a championship, John goes into serious mode and really gets into his analysis. And that's when he comes out with some really fascinating stuff because that's when he reaches back into his own career and puts himself into the situation that guys are experiencing.

Steve (Davies), on the other hand, has a dry sense of humour, so the two work off each other perfectly. But Steve has become almost a national gurning champion because he expresses himself a lot more with his facial expressions.

He used to be poker-faced at the table and was once known as the Romford Robot. But nothing could be further from that now.

You work with some golfing legends as analysts. How have they helped you?

Gosh! Peter Alliss, Sam Torrance and Ken Brown are fantastically helpful. I'm always learning from them and learning when I listen to their delivery, their knowledge and their expertise. All of them have different personalities and bring something different to the broadcast. That's why I think we work well together as a team.

As a student, what do you remember about St Andrews and how women were treated as golfers?

It's a long time ago but I was around a 12 handicapper and played for the University. Women golfers were treated very well. We used to take guests round the halls of residence and play golf for at least six weeks of the year. It was marvellous. Today, my handicap's around 16-18 and I still love to play when I can.

Women's professional golf...how has it developed in your opinion?

Women's pro golf is brilliant. I have presented the Women's Open for 16 years and remember Pattie Sheehan winning that first one when it was cut short because of the weather.

I have marvelled at women's golf - its development and its profile over the last few years. It's so healthy. If you look at the phenomenal achievements of Annika Sorenstam and in Lorena Ochoa, it's fantastic that you've got someone who is genuinely reaching similar heights to Tiger Woods.

I mean, they don't text each other about their latest major wins for nothing! They know one another well and regard themselves as equals. They respect each other's ability.

I think women's golf has developed beyond all measure in the years I've been presenting it and it's fantastic to see a new generation of players coming into the game, including Ochoa and Paul Creamer, exciting young women who are so passionate about their sport and with a touch of elegance about them. They're bringing golf to a whole new audience, rather like Tiger did but in their own way. They are attracting attention for terrific reasons.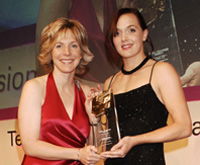 Hazel receives her sports presenter of the year award from British cyclist Victoria Pendleton
You will be presenting the Scottish Open at Loch Lomond and then the Open Championship from Royal Birkdale. How do you prepare for a broadcast?
I try to keep up with everything that happens on the major Tours around the world. I subscribe to a couple of golf magazines and get a lot of information online. I also make a few phone calls, talk to people, just trying to keep up with my research on indivduals so that when I do get to talk to them, I kind of have a grasp of how their season is going or anything particularly interesting within it. They expect you to know that and you should.
Do you get nervous?
Of course, but you have to channel the adrenalin, just as I have recently for 17 days presenting in Sheffield. It's very tiring and like a marathon of the mind. I'd just come back from the US Masters golf so it was a very long run and by the end of it everyone was just about on their knees.
Have you played Augusta National?
No. I never have, simply because the flights we take to get back haven't allowed me to even go into the ballot for a chance to play it on the Monday after the final round. But sometime in the future I'd love to play it.
Do you get a chance to play with famous golfers?
Occasionally we get to play in a pro-am before an event and I've have played a couple pro-ams with Katrina Matthew and Laura [Davies] who is one of my favourite people.
Hazel Irvine celebrates her 43rd birthday on bank holiday Monday (May 26). She was recipient of the 2006 Royal Television Society award for the best sports presenter, is chairman of the West of Scotland Institute of Sport and honorary president of Dumbarton Foot Club Supporters Association. She also works in media trainer and is an after-dinner speaker.