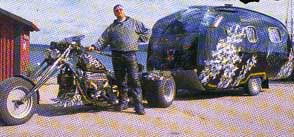 Svante and his mean machine.





The traditional image of a travelling golfer is one of colourful polo shirts, half-price green fee vouchers, top-of-the range clubs and a collection of scorecards and ball-markers.

Svante Rylander turns that on its head. He roars into clubhouse car parks on his V8 motorcycle trike, towing a customised caravan, wearing leathers and plays nine holes before breakfast.

It could only happen in Sweden where this 50-year-old golf nut with a passion for the open road plans to spend his weekends and holidays travelling around the country playing as many courses as he can.

"A lot of people think that golf is only a sport for the rich upper class," Svante told Back Street Heroes magazine.

"Well maybe it was some years ago. But today I see a lot of working class bike riders showing up at golf courses with the golf bag on the back of the Harley."

He owned two scrapyards in Umea in Sweden before deciding to take early retirement and combine his two hobbies bikes and bunkers.

"This is where life begins," he says."It's time to harvest the fruits of all my hard work and start enjoying life. If I had kept working as hard as I did, I'd be dead by now."

He built his three-wheeled, fat-tyred monster and custom-painted mobile locker room himself. The bike roars along at upto 60mph, powered by a Chevrolet LT1 engine and because it was causing too much attention at overnight camp sites, he now parks up in clubhouse car parks.

"The trike draws huge crowds wherever I go and I'm constantly pulled over by police, who just want to talk, talk, talk. They don't even check if I've got a driver's licence. Now when the last golfers leave for the night it becomes nice and quiet.

"It's perfect. I get up early, play nine holes, have breakfast, play nine holes then move on to the next course."

Last summer he played 17 of Sweden's 300. This summer he's well on his way to visiting 25 more.

Do you know any biking golfers, those with unusual methods of transport or merely golf nuts with obscure jobs? Tell us on the Forum.