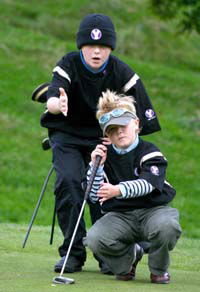 Maxwell Martin (6) lines up a putt with his young caddie
Twenty-four of Britain's golfing whizz-kiddies will be heading for La Manga on Spain's southern coast in November to discover who's the Young Masters Golf (YMG) overall champion.
Golfers as young as six years old (so it's encouraging to know my grandson will be able to challenge for a prize in five years time!) competed in a qualifying flag competition, sponsored by the Times/Sunday times and EA Sports' Tiger Woods PGA Tour 2005 computer game.
The prestigious Celtic Manor Coldra Woods course proved a daunting prospect for 120 talented children, who played as many shots as possible using the strokes on their handicap. Winners were those who got the furthest.
Local boy Rhys Pugh, aged 10, was overall winner completing 18 holes with 14 shots to spare and then going on to finish just a few feet from the flagstick on the 23rd hole. He was chased home in his age category by Essex schoolboy Lee Wilson and Mark Marshall from Nottinghamshire, who both reached the 21st fairway. Lee edged it by a few yards to earn his place in the Spanish final.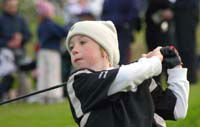 Six-year-old Fay Carpenter
Hannah Turland, also ten, from Salisbury, reached the 20th green to win the girls event, qualifying alongside Yorkshire l
ass Sophie Godley (19th hole).
Birmingham boy Maxwell Martin won the 5-6 year-old category despite the challenge of Dublin lad Ross Mohan. Nathan Fell from Sheffield was third. Fay Carpenter, from Poole in Dorset won the junior category for girls, ahead of Imogen Huxley (Rutland County) and Annabel Bailey (Leicestershire).
Other qualifiers were Amy Furze, Alice Rouane, Emma Naughton, Dafydd Wiliams, Greg Roostan, Gareth Owen, Jay Gauld, Lucy Goddard, Nicola Rawlinson, Darren McClelland, Callum Woodgate, Billy-Joe Bugden, Jamie-Leigh Casling, Neil McKinstry, Kyra Horlock, and Olivia Winning.
Originally the event attracted 1,100 in 12 regions and David Gosling, YMG managing director commented: "There was tremendous golf from all our young champions and the event was a terrific showcase for the quality of young junior golfers emerging from YMG Academies around the UK."
For more information about the YMG Junior Golf programme visit www.ymg-golf.com.
RESULTS
Boys (15+): 1 Dafydd Williams (The Ridgeway Golf Club), 2 Greg Roostan (Drayton Park GC); (13-14) 1 Gareth Owen (Cairndhu GC), 2 Jay Gauld (The Hampshire GC); (11-12) 1 Darren McClelland (Cairndhu GC), 2 Callum Woodgate (Waterlooville GC); (9-10) 1 Rhys Pugh (The Ridgeway GC), 2 Lee Wilson (Rivenhall Oaks GC); (7-8) 1 Billy-Joe Bugden (Hamptworth GC), 2 Neil McKinstry (Cairndhu GC); (5-6) 1 Maxwell Martin (Copt Heath GC), 2 Ross Mohan (Deer Park GC).
Girls (15+) 1 Amy Furze (Chesterfield GC);(13-14) 1 Alice Rouane (Chesterfield GC), 2 Emma Naughton (Leyland GC), 3 Jamie-Lee Casling (Kendleshire GC); (11-12) 1 Lucy Goddard (Nazeing GC), 2 Nicola Rawlinson (Leyland GC); (9-10) 1 Hannah Turland (Mark Ingram Golf School), 2 Sophie Godley (Balborough Links GC); (7-8) 1 Kyra Horlock (Ferndown Forest GC), 2 Olivia Winning (Balborough Links GC); (5-6) 1 Fay Carpenter (Dorset Golf & CC), 2 Imogen Huxley (Rutland County GC).