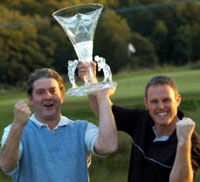 Winners Schofield and Simpson




West Yorkshire golfers Damian Simpson and Mick Schofield, will represent England in the World Pairs final at the Celtic Manor next June – after claiming the 2004 International pairs at Cardrona Golf Hotel in the Scottish borders.

Damian (10 handicap) and Mick (20), from Lofthouse Hill, near Wakefield, scored 88 stableford points in the fourball better ball format over two rounds, against 39 other pairings from around the country.

They edged out Gary Tough (+1) and Iain Thomson (2) from Edzell, the new Scottish champions, by four points. Third place went to 16-year-olds Robbie Turner (5) and Ian Ritchie (12) from Wychwood Park in Cheshire.

Llanwern provided the Welsh champions - Ian Adams (14) and Mark Bruford (22), while Matlock's Pauline Bramley (10) claimed the international women's crown at the third attempt (with partner Mary Annable) after twice winning the English title.

Dawn Moor (16) and Jean Lambert (9) secured the Scottish title, while Jayne Freeman (14) and Kathy Reid (25) will also represent England.

The mixed pairs was won by John Munro (7) and Jackie Brown (5), from Whitemoss Golf Club, near Perth, beatingJanice Kerr (8) and Julian Bates (3), from Redditch.

To find out how to register for the 2005 event, call the competition hotline on 08700 330 633 or visit: www.internationalpairs.com.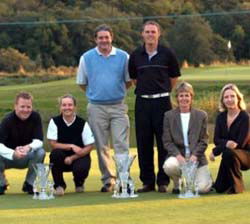 All the winners
RESULTS
Men's: 88 Damian Simpson & Mick Schofield (Lofthouse Hill, Eng); 84 Gary Tough & Iain Thomson (Edzell, Scot); 82 Robbie Turner & Ian Ritchie (Wychwood Park, Eng); 77 Les Holmes & Nick Day (Crow Nest Park, Eng); 76 Lawrence Hardie & John Kerr (Deer Park, Scot), Clive Oliphant & Steve Robinson (Durham City, Eng), Chris Fanning & Chris Bromley (Redditch, Eng); 74 Martin Henry & Andrew Mitchell (Crow Nest Park, Eng); 72 Chris Cash & Nick Thompson (Peover, Eng), Archie MacShannon & Simon Bogdaniec (West Berkshire, Eng), Steve Ayres & Rod Campbell (Manor, Eng); 70 Stuart Cella & James Cooley (Haste Hill, Eng), Storry Thrower & Guy Chadwick (Bognor Regis, Eng), Ray Standring & Mark Green (Mytton Fold, Eng); 69 Robert Ashton & Jeff Goodge (Richmond Park, Eng), Paul Campbell & Craig Fouka (Strathpeffer Spa, Scot); 67 Chris Hardy & Phil Gratrix (Glossop & District, Eng), Ian Adams & Mark Bruford (Llanwern, Wales); 66 Andy Latter & Shane Few (Thorpe Wood, Eng), Graham Hillan & Robert Mcletchie (Mouse Valley, Scot); 65 Geoff Gunning & Mike Pickup (Selby, Eng), Ian Halstead & Paul Gray (Singing Hills, Eng), Shaun Pantry & Tony Turner (Sitwell Park, Eng); 62 Allan Wyllie & Thomas Stevenson (Charleton, Scot) 60 Maurice Pulley & Lawrence Pallante (Gaudet Luce, Eng); 59 Brian Reid & John McKie (Bridgecastle, Scot), Michael Maxwell & Simon Williams (Puckrup Hall, Eng); 56 Allen Brown & Kevin Lawrence (Goldenhill, Eng); 54 Kevin Alty & Trevor Davies (Charnock Richard, Eng), Gerald Corrighan & Andrew Guest (Skipton, Eng); 53 Bob Murphy & Ian Brown (Castle Hawk, Eng); 31 Brad Sarjantson & Sean Davies (Heron's Reach, Eng), who withdrew after injury.
Women's: 61 Pauline Bramley & Mary Annable (Matlock, Eng) ;55 Dawn Moor & Jean Lambert (Southerness, Scot); 50 Jayne Freeman & Kathy Reid (Redditch, Eng) 43 Eileen Tuer & Marcia Kirkman (Selby, Eng).
Mixed: 76 John Munro & Jackie Brown (Whitemoss, Scot); 73 Janice Kerr & Julian Bates (Redditch, Eng) ;69 Jo Farley & Paul Farley (Peover, Eng) ; 64 David Absalom & Kiran Patel (Reigate Hill, Eng).