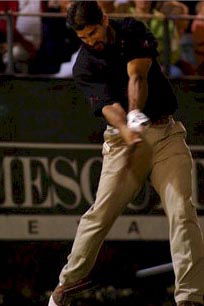 Crunch time…Carl Wolter in action.
Carl Wolter, a former US college javelin champion, who came from nowhere to win the ReMax World Long Driving championship in Nevada, has revealed a secret swing thought to
Golfmagic
, that helped him to the title.
Using AccuFlex Assassin shafts in his SMT 455 Deep Bore driver, the Philadelphia schoolteacher, fired his winning drive 384 yards on a cool desert night to win the title comfortably from his nearest rival.
He told us his secret is down to a technique he learned through throwing the javelin, the ability to transfer his weight from the right to the left side just before impact.
"When I throw a javelin I'm loading up as much of my weight on my right side as I can and then explosively unloading that stored energy to my left side in a very violent way. My hips move one foot from right to left during my golf swing.
"But I have an uncanny ability to recover and get into an optimal hitting position at and through impact. I guess it's hand/eye co-ordination combined with an explosive weight transfer," says Carl who suggests it's best not to try this at home!
However, he reveals an unusual swing thought many of us should try.
"Most golfers think about directing their club head to the ball or through the ball. I concentrate on swinging the club head to and through the top of my follow through,' says Carl, who also revealed that getting the ball in the hole is not his speciality.
When I play a round with irons and a putter, which isn't too often, I tend shoot in the high 70s to low 80s."
His $80,000 cheque, he says, will help him and his wife Shannon buy a new home and some much needed furniture. Some of it could also go towards funding a new bike for his other favourite hobby competing in local motocross events.
Recalled Carl: "When I won my district qualifier, I had to beat a pretty tough field of competitors but that gave me confidence that I might be able to make some noise in the finals in Mesquite."
He went on to beat many of the world's legends in long-driving, including Jason Zuback, Sean Fister, Bobby Wilson and Michael Hooper
"In the quarter-finals I was the fifth hitter in my group. I needed to hit a 356-yard drive to advance to the semi-finals and, on my fifth ball, I hit one 357.
" But I only had one Assassin 2 shaft. It was my favourite club but I was paranoid that I would either crack the club head or the shaft. I had to choose between buying two more Assassin 2s and two more heads or book the hotel, pay the entry fee and buy the plane tickets to fly out to Mesquite. I decided to risk it with one good shaft."
But having reached the semi-finals he got much-needed help from top long-driver Greg Walker, who had to drop out after getting stung by a bee and loaned him two similar clubs as back-up.
In a nail-biting semi-final Carl's first three attempts missed the grid but with his fourth attempt he 'launched one' but lost it in flight.
The adrenalin that was pumping through me and I figured I had to hit in the low 360s if I was to make the finals
"Then I saw the grid markers, who were perched at about the 360 yards marker turn their backs and run down the grid. It was measured at 395. Some of the other competitors were in shock.
"But it gave me confidence that I could win. In the final I decided I would swing at about 80-85% in order to get a ball onto the grid early. I hit a high ball that doesn't get much roll so I wasn't sure I could carry the ball far enough given the cooling evening temperature and atmospheric conditions.
"With my second ball I swung at about 85% and caught it good for 373 yards and with my fourth ball I connected through the ball very solidly – went 384 yards (378-yard carry) brought the crowd to its feet."
Carl and his wife celebrated with a drive-through burger in a dash to the airport to catch the midnight flight home.
Now he;s hoping his new role as the world's long driver of a golf ball will open new opportunities to enable him to travel the world exhibiting the skills most of us can only dream about whenever we step on the tee.
*The graphite AccuFLEX ICON shaft, featuring the A2 advanced design composite used by Carl Wolter is currently not available in the UK. However, the company is positively seeking a distributor and anyone interested in following this up should contact Steve Zunich (stevez@accuflexgolf.com) or visit www.accuflexgolf.com