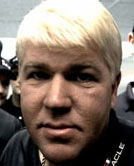 Daly - another tantrum.
John Daly has been fined the equivalent of £4,000 after his latest outburst while competing in the Australia PGA at Coolum in Queensland.
The American – nicknamed Wild Thing – after a spate of temper tantrums early in his career, through self-admitted booze and drugs binges, hurled his putter into the lake at the 18th green and refused to sign his card. It's not recorded whether it had a True Temper shaft!
He had been upset by an official over a wrong penalty drop following an errant shot, which sent his ball into another lake beside the 13th green.
Daly, who had been paid £100,000 to compete and had hoped to return to Australia in the New Year for the Heineken Classic, may now be banned from taking part, though he did apologise to the organisers and his playing partners Greg Norman and Craig Parry.
And Daly isn't the only player to lose his temper this week – the normally phlegmatic Thomas Bjorn 'lost it' with Asia's leading money-winner Jyoti Randhawa in the Omega Hong Kong Open.
Minutes after completing their second round the Dane launched a furious tirade against the 30-year-old for alleged slow play. Bjorn claimed he was kept waiting to sign his card for more than ten minutes.
When a bemused Randhawa asked him why he was being abusive, Bjorn replied: "You deserve to get abused. You didn't shake my hand at the end of the round. You have got a terrible attitude."
Randhawa, who has since written a letter of complaint to Ken Schofield, the European Tour's executive director, added: "A player of his calibre should help me instead of being abusive."
Apart from the odd muttered expletive and an occasional minor burying of a clubhead in soft turf after a duffed chip, I have managed to avoid temper outbursts.
I quickly discovered years ago that it upsets my playing partners as much as myself and who wants to get a reputation, when things don't go just right, for being a pain in the backside?
Long ago I realised that, for me, a bad shot can spur a good round rather than destroy it. Many's the time I have started poorly with a misplaced drive, approach into sand or three stabs on the green but dug in to turn my fortunes around.
There's no one to blame but yourself and losing your cool can only make it worse and affect your concentration.
There have been many famous incidents that have illustrated the frustrations of the game, none more so than young US Tour rookie Pat Perez slamming his 3-wood several times into the turf in a crazed moment after crashing his shot out of bounds while leading the AT&T Pro-Am at Pebble Beach earlier in the year.
Paul Azinger also famously snapped his putter over his knee after missing a short putt in a past Open. Mark James was also renowned for hurling the odd 5-iron into the upper branches of trees early in his career as an amateur at my former club Burghley Park.
He must also have been a fellow avid fan of my literary hero , Henry Longhurst, who once wrote: " The most exquisitely satisfying act in the world of golf is that of throwing a club. The full backswing, the delayed wrist action, the flowing follow-through, followed by that unique whirring sound reminiscent only of a passing flock of starlings, are without parallel in sport."
However, I think it was the outrageous Tommy Bolt who advised that if you do throw a club, throw it forwards, there's nothing more embarrassing than having to go back to retrieve it!
Though John Daly, has provided ample fodder for those who view golf as a frustrating pastime, my favourite story, finally, (with thanks to early 20th century author Horace Hutchinson) is of a gallant Colonel who, on completion of a round at Royal North Devon 'stripped himself to the state in which Nature gave him to an admiring world.'
"He picked his way daintily and with unshod feet over great boulders of the pebble ridge and when he came to the sea, waded out as far as possible and hurled forth, one after the other, a whole set of clubs beyond the line of the furthest breakers.
"That the waves and the tide were sure to bring them in again, to the delight of the salvaging caddies made no matter. For him they were gone forever and his soul was at rest."