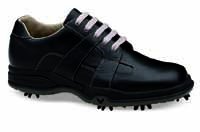 Callaway Runner shoes
Not content with their high profile in clubs, bags and balls, Callaway Golf has, expensively, dipped its toe into the footwear market with a licensing agreement with Tour Golf Group to provide them with a range of shoes under the Callaway label.
Annika Sorenstam and Charles Howell III are already wearing the top of the range Euro Saddle (£99) and ERC Black Label Collection (£249) respectively on Tour, while youngsters and amateur women are being tempted by the Red Label (£129) and Classic Oxford (£75) range.
Mal Smith, an experienced 16-handicapper, put a pair of the new ERC Runner range for men through their paces for this Golfmagic review.
Price: £149
Mal says that it took him four rounds (approx 12 miles) to 'break in' the shoes in before they became comfortable with the heel and ankle uppers the main area of initial discomfort.
"Around the ankle, the shoe came too high for my own preference and I could only prevent soreness with an extra insole," he said. "However, the extra broad fit, which doesn't hamper overall support, was an absolute pleasure allowing my feet to breathe."
"I feel the shoes have a smart but clumsy appearance – the ones I road-tested were brown with a hint of oxblood - but they'll will never be a fashion icon and I would have preferred a less ostentatious colour of lace than the fawn provided," he said.

Tester Mal Smith
Callaway has introduced its latest Big Bertha softspikes and Mal described the grip as 'excellent', even while playing from sand.
"That said, I have only used the shoes in the dry and firm conditions we've had recently underfoot, so have not had experience of their performance when it's wet," he says. "Equally their waterproofing qualities remain a mystery."
He adds that the soles and uppers are easily cleaned to retain a smart finish.
Verdict

Once broken in and with the addition of an innersole to lift the ankle, the shoes were very comfortable. They have a practical rather than a stylish look while grip and support are excellent.
Golfmagic rating: 8/10