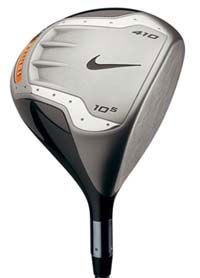 Ignite 410 driver.
Price: £329
Nike may be claiming Tour victories for Tiger Woods and Trevor Immelman for its Ignite driver and a first in an independent robot distance test by Golf World magazine but at Golfmagic it was like grabbing a snake by the tail.
I put a regular-shafted 10.5 degree model in the hands of a handful of accomplished golfers from scratch to 17 handicap and no one could hit it with any consistency.
Which is probably what you'd expect compared to a robot and Messrs Woods and Immelman, who have two of the finest repeating swings on Tour.
As for handicap golfers, no two swings are ever the same – even when a player scores regularly close to par – so we have to allow for a little forgiveness. But I found the Ignite was not in the same league as, say the Cobra SS 430.
Catch it right and it goes further, admittedly, but it's as tough a club to wield as Braveheart's sword.
Trevor Smith, a solid four handicapper made a few passes at it but complained it felt heavy at the top of the backswing, compared with his regular Cobra.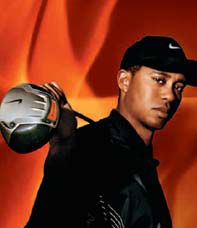 Tiger with his Ignite driver
Dane Sherborne a fast-improving 17-handicapper, gave it one mighty penetrating rip, reaching over 250 yards but sprayed half a dozen more.
Professional teacher Neil Evans was more impressed and proceeded to blast a one or two over the range boundary at my local club but felt the cosmetics less endearing.
"The head seems to taper too much into the shaft giving the impression of extra length," he said, "and the ball looks too far away in the stance."
I agreed and at address that immediately put me 'on the back foot' having to adjust my grip and alignment to compensate.
While I achieved several solid thumps on a low, penetrating trajectory, the Ignite+ lacked the consistency and forgiveness that some cheaper drivers deliver.
Verdict

Nike and Golf World will no doubt be feeling smug about the results of the robot tests but I'd rather take the word of a human with an opinion and a swing that resembles 99 per-cent of those of us who play golf.
Golfmagic rating: 7/10

Have you trtied the Ignite+ driver yet? If so tell us your experiences on the forum and whether you agree with ou assessment. Better still, submit a user review as a Golfmagic member.