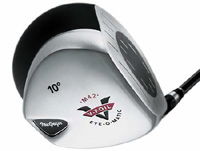 MacGregor V-Foil 42 driver
Trevor Partington (35) from St Neots in Cambridgeshire, has just returned to golf after a 17-year break and is delighted to discover he has lost none of his old appetite for the game.
"I used to be a junior member at the Eynesbury Hardwicke Golf Club (now called Abbotsley) and lived next door to the old clubhouse. I can't imagine how many rounds I played during school holidays – but often it was as many as three a day, " recalled Trevor, who is one of our March user review winners.
"Since returning to the game I have been driving everyone mad by asking if they want to join me at the range or play a few holes. I've lost none of my enthusiasm, " says the former nine handicap who estimates his current status at around 18.
Trevor is one of three winners of a dozen Callaway Warbird golf balls, courtesy of County Golf Direct., for his user reviews. He told us about his MacGregor M42 V-Foil Eye-O-Matic driver and appropriately described it as the '12-bore shotgun of drivers.'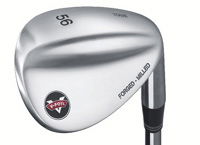 MacGregor V-Foil forged wedge
He says: "It's very long, easy to hit even off the deck with a great shaft with none of the gaudiness of other graphite shafts. It's also so loud it can make your ears bleed, and startle birds within a two-mile radius."
He describes himself as 'a struggling artist in the web-based media who has to work in a factory to pay the bills' and also told us about the MacGregor V-foil VIP forged wedges he imported from the US.
"They have looks to die for, spin if needed, great from the deep grass and good grip as standard."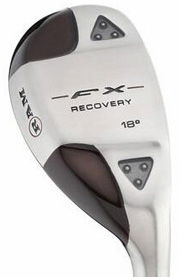 Ram FX Recovery club
Robin Williams from Telford, Shropshire, is delighted with his Ram FX Recovery club.
" It' is so versatile and I can hit my 21-degree anything from 200 yards down to 150 with a great deal of confidence. I find it much easier to really choke down on than a long iron from the tee when I want to hit a shot only 60-75 per-cent," he says.
James Hodge from Horsham, West Sussex, described his new Odyssey White Hot 7 putter as a magic wand.
"The moment I picked up the No.7 there was no looking back and it has shaved 3-6 shots off my game since I bought it. The soft insert required a lot of getting used to with a tendency to leave long putts short but I resolved this with practice," he says.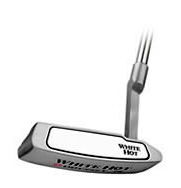 Odyssey White Hot putter
"I have moved from five or six three-putts a round to one or two at worst and the other day to the disgust of my opponent, rolled in a 45-footer for par that broke his heart!"
*Tell us about your golf equipment – clubs, balls, bag, shoes, waterproofs etc – by submitting a user review during April. You could win one of the dozen packs Callaway Warbird balls we give away every month.
And if you've got clubs to buy or sell second hand you can do that too, in our popular classified section.