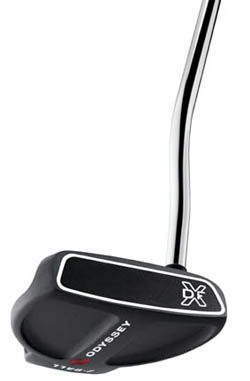 Firmer-feel face
Price: £139 (Shafts 33, 34,35,36 inches, right and left-handed)
I reckon I've discovered the mental technique for handling the latest heavyweight putters – like the Odyssey White Hot 2-ball, TaylorMade Monza and the soon-to-be launched Ben Hogan by Bettinardi Big Ben, as used by Jim Furyk to win the US Open.
You have to imagine the putter is the pendulum of a grandfather clock swinging back and forth. A ball placed just forward of the bottom of the pendulum's arc will be struck on the upswing and, consequently, will roll with overspin.
Testing Odyssey's latest DFX 2-ball version, I tried to imagine I was swinging on that pendulum to get the feeling of the strike and, using my somewhat unorthodox 'claw' grip – a miniature version of the grip used by broomhandle putters – discovered it to be the perfect combination.
As a result I'm reluctant to let this putter out of my possession while the magic lasts.
I've used it in three competitive rounds and never felt so secure from 15 feet and less, especially on current fast-running greens. A regular playing partner, who plays officially to a 15-handicap, agrees.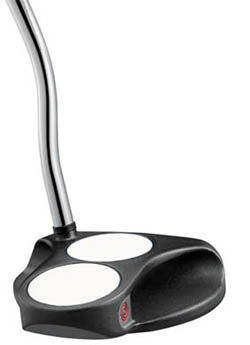 More weight at the back.
He told me: "I love it – I'm 5 or 6 shots a round better than I was." We're playing in the June medal together tomorrow – I'll find out first hand.
This putter gives the hole a chance every time. I might not always read the line and borrow correctly but it delivers a recent roll. 'Never up…never in' is a thing of the past.
The main difference between the DFX and the original 2-ball is the insert face.
The grey Stronomic insert – compared to the white Elastomer - provides a distinctive feel that is crisper and firmer. It's not like striking a hard Pinnacle or Maxfli DDH generating that distinctive click. You merely get the feel that no putt will ever come up short.
The gun-metal finish also reduces glare – and further highlights the white discs of the 2-ball alignment system.
My latest stroke with it followed a drilled driver into wind and majestic 4-iron to the front of the green of a 400 yard par-4. I rolled in the putt from 25-feet. I hope it won't be my last!
Verdict

At around £140 for a putter it's still expensive but if you can learn the right technique and stand confidently over it – the Odyssey 2-ball DFX could cut more shots off your handicap than any hi-tech ball or driver.
Golfmagic rating: 9/10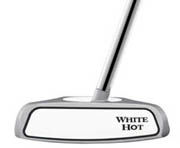 Centre-shafted White Hot 2-ball.
*To compliment the original White-Hot 2-ball putter, Odyssey has now introduced a centre-shafted version (£149) for right and left-handers
Tell us about your current putter. How does it compare with others you've used? By adding it to our equipment user reviews (you can also tell us about other clubs in your bag) you will help other golfers decide on what equipment to purchase from your own recommendations and experiences.