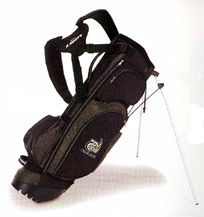 Burton Edge bag.
Price: £99.99 (Black, black/green, black/red, black/silver,black/Royal)
It's a long way from leather horse collars and harnesses at the turn of the 20th century to golf bag maker to the stars, but Burton Golf has made the transition in some style.
TC Burton, the founder, crafted the original livery from 1907 but in recent times, based in Fort Walton Beach, Florida, the name has become synonymous with providing US bags for Ryder, President, Solheim and Walker Cup teams.
One of the company's latest offerings is the B Sport Edge carry bag – which is as sturdy and efficient as any I have used in over 30 years of playing the game.
Tending to be an indecisive golfer – I load up with the full array of weapons and more than enough golf balls to furnish myself and my mates for half a season – I usually prefer to push or pull a trolley rather than play the role of a pack horse. But with the Burton bag I made an exception to see how it – and me – stood up to the task.
I was pleasantly surprised at the load-bearing qualities of the fur-lined and padded Izzo dual strap – though the jury's still out on whether I shall become a permanent convert.
At times I felt more like a Sherpa than a golfer but the straps created a balanced effect between the shoulder blades and with practice it was relatively easy to slide off and load up between shots.
I was also impressed with the bag's overall sturdiness and the solidity of its aluminium legs. Unlike some bags, these were securely bolted to the frame, rather than timidly locked into place and they held firm in soft ground.
And what a delight to find a hood of ample proportions. Too often with today's 46-48 inch drivers and putters it's near impossible to zip up the hood when rain threatens. The Edge hood easily protected big-headed driver and accompanying head-cover.
If there was a criticism it was the lack of storage space – only six one-way zipped compartments compared with nine on the TaylorMade Tour bag, for example. But perhaps this is no bad thing, it teaches you to be efficient and decisive in what you carry around: load up with too many balls and you become less focussed in your shot-making.
Verdict

The Burton B Sport Edge comes in a range of six colours and has a cavernous 8.5 diameter top with five fur-lined dividers including a handy slot for a putter. A genuine, quality bag over which much thought and care has been taken.
Golfmagic rating: 9/10