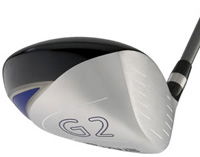 Ping G2 driver
Price: £249
Nick Briers is a chef, a nine-handicapper golfer, with a short but powerful swing. He had invested in a Ping i3 driver, but was becoming increasingly disillusioned with it.
The ball flight, the feel, the penetration had left him. He was having to make do and it was hurting his golf. He liked the look of this driver but it wasn't working for him.
Fortunately we bumped into each other on one of my club-testing days and he was able to try out the latest big bomber from Ping – the G2 with a giant 460cc head and already successful in the hands of Karen Stupples - the Weetabix British Women's Open champion.
One hit and golf for Nick tasted sweet again – he had found the recipe for success.
Everything about the G2 suited him – the feel was so forgiving; he felt he was squeezing the ball off the clubface with hardly a tremor of vibration.
This was most likely due to the new TFC 100D graphite shaft, available in three flexes – regular (R), stiff (S) and extra stiff (X) - designed with a dampening material to reduce vibration. Ping also offers the Aldila NV 65 and Grafalloy ProLaunch 65 shaft - for golfers seeking different ball flight characteristics.
Nick also liked the long, high draw flight he achieved with this 10-degree G2. A plasma-welded, variable thickness face takes the credit for this, developing a lower spin rate and higher launch angle.
But with slightly different swings, though similar handicaps, we didn't generate the same performance, or the same enthusiasm for the G2. The test club was more suited to Nick's steep angle of attack in the downswing, while I struggled with my punchy style to get the ball airborne as successfully.
I felt a visit to Ping's new custom -fitting centre at Gainsborough would prove more beneficial to me than to Nick to find the right implement.
As we parted Nick was heading for his nearest computer, to check out Ping's WebFit programme, confident he'd found in the G2 all the right ingredients.
Verdict

The Ping G2 has terrific feel off the clubface – and will even perform off the deck – but we recommend you check out the Webfit and preferably get professionally fitted before parting with your cash.
Golfmagic rating: 8.5/10