| | | |
| --- | --- | --- |
| | King Cobra Comp 454 driver (left-handed) | |
| | |
| --- | --- |
| Contact: | www.cobragolf.co.uk |
| Technology: | Ultra-lightweight, carbon composite top, combined with a milled rhombus oval face insert and dualed weighting system. |
| Price: | £329 |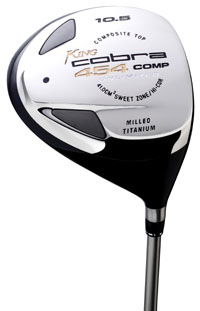 Cobra 454 Comp driver
My mate Malcolm Smith likes to hit the ball hard – very hard. As an opening bat for his cricket team he likes to 'get after' the bowlers and force the pace.
As a golfer he 'doesn't spare it' from the opening tee shot – and I swear he's getting closer and closer to driving the first green – a 374-yard dogleg par-4 - at our local course at Greetham Valley.
As a 15 –handicap left-hander using his newly acquired Wilson Deep Red Max II, he covered almost 300 yards with one blow but still needed a 9-iron to get home.
This week, armed with the latest left-handed version of the 10-deg King Cobra Comp 454, he had less than 30 yards left to the pin – a mere pitch.
Mal describes its performance as 'awesome' – especially as he can regularly outdrive his 4-handicap son and one or two other low handicappers who fancy themselves as Rutland's answer to John Daly.
He says: "I extolled the virtues of Deep Red Max II and said it was the best driver I had used. Wrong! That was before I got my hands on this.
"The Cobra's streets ahead – and so easy to use. In fact it went very well from the start. I thought things would soon settle into the old groove once the honeymoon period was over. But to my delight, it continues to make me look as though I know what I am doing off the tee."
As a 'steady 15 handicapper' he he has good days and bad but generally claims he can confidently draw his tee shots – even faded it, mostly to order.
"The launch angle and ball flight are superb and the tell-tale marks on the clubface confirm Cobra's claim of a generous sweet spot.
"I can even hit it off the deck," he added with pride. "It's not perfect but it outshines my 3-wood."
| | | |
| --- | --- | --- |
| | The Golfmagic verdict | |
| | |
| --- | --- |
| Rating: | 8.5/10 |
| Summary: | This driver is excellent. The only downside is that it exceeds COR limits of .830, so won't legally conform in 2008. But, hey, who cares? I'm living for today when I can drive the ball like this. Sold!…to that man in the white flannels and sleeveless sweater! |
*Tell us about the driver in your bag - as well as the balls, shoes, waterproofs – by submitting a user review.
And if you've got equipment to buy or sell second hand you can do that too, in our popular classified section.