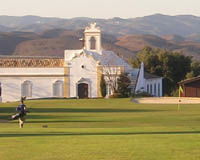 18th hole at Benamor
You can forgive the rental car you pick up from Faro Airport if it automatically wants to turn west towards the traditional golfing hotspots of Vilamoura, Vale do Lobo and Penina.
For years these have been the coastal watering holes - and hazards - of UK players gagging for a game as they emerge from this Algarve airport geared to the golfer.
Their 5-door 'Ford Fourball'-carriers seem to know their own way to the nearest golf course bag drop on the crowded Quinta complexes, where tee times have been booked for months, within an hour of touchdown.
But now there's a new trail being blazed out of this Portuguese holiday destination – east toward the ancient town of Tavira, a few miles from the Spanish border.
Here the motorway is almost deserted and the pace of life is slower. But the warm sun still shines in January and February and the courses, though less prolific, are manicured gems.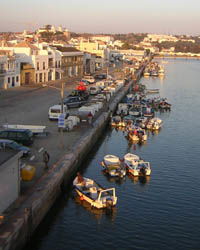 Picturesque port at Tavira
I travelled to Tavira, one of the Eastern Algarve's oldest cities, in search of a different kind of golf break and discovered a fishing port, located at the mouth of the River Gilao, with its narrow streets and bustling squares hiding a multitude of cafes and fish restaurants.
It's here that the golfer heading east will make their base. I stayed in the impressive 4-star Hotel Vila Gale just a few minutes drive from a handful of excellent courses.
As well as dozens of air-conditioned rooms, complete with satellite TV, the hotel has indoor and outdoor pools, gymnasium, private parking, bars and a buffet-style restaurant with impeccable service.
Though only five years old, Benamor is one of the longest established local courses originally designed by Sir Henry Cotton and looping around a delightful former church, complete with bell-tower.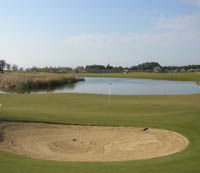 Quinta da Ria's tricky dogleg 14th hole
Holes on the front nine twist and turn through citrus plantations and almond trees, demanding a searching examination of every club in your bag. You'' plot your way through a series of elevated tees and greens, where putting surfaces are as slick and true as any of tournament standard in the UK in high summer.
Emerge unscathed from a short-blind uphill par-4 11th, sandwiched between two intimidating par-3s, and you can call yourself a golfer, my son! While the spectacular par-4 13th allows you to 'go for the green' 100 feet below.
The closing holes will test your mettle...big time. The 17th is a tough green to hit, while the par-5 18th threatens to ruin your card with OB crowding on the right.
Quinta de Cima and Quinta da Ria are situated side-by side on an exciting new development created by noted American designer Rocky Roquemor in 2002.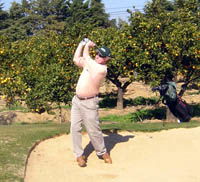 Orange backdrop at Quinta da Cima
Typically US-style with acres of bunkering, the greens at Quinta de Cima (pronounced 'seamer') are as fast, firm and true as Augusta National and merely reaching them in regulation isn't nearly enough to guarantee bogey, let alone par.
The holes sweep through olive and carob trees avoiding lakes and babbling streams, which meander through the property, providing occasional unseen hazards.
Adjacent orange plantations and vineyards can provide a distraction together with the bird life in and around the lakes, which come into play on the closing holes.
By contrast the Ria course, rated No.7 in Portugal by the US Golf Digest magazine, is a modest 6,000 metres and appears breathtaking though less demanding. However, the beauty of the coastal scenery can lull the golfer into false security with deceptive distances and unseen slopes on greens that can pitch the ball into yawning bunkers.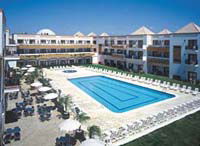 Hotel Vila Gale
The front nine demands some powerful, accurate striking while the back nine combines subtlety with course management. The 14th is a wicked lakeside dogleg, while 16 and 17 need accuracy and nous to escape unscathed.
Other venues in the region include the 'Atlantic', the first of two 18-hole golf courses to be built at the historic village of Castro Marim, designed by Terry Murray. Another is the Colina Verde hotel and apartments – a 9-hole executive par-3 at Maragota.
As yet, the Eastern Algarve remains mostly undiscovered, except by expatriates and a few, smart golf tour operators. But with the clamour for tee times on the Western Algarve increasing, it needs to be 'right hand down' as you pull out of the airport.
*Look out for details very soon about a special Golfmagic Am/Am planned for the East Algarve from October 12-16. We'll be look for a minimum of 12 teams of four to compete over three courses.
Fact File
Travel
Most domestic airlines fly daily to Faro from many UK and Ireland airports. Cheaper flights are often available when they do not include weekend travel.
We travelled via Easyjet.com from Stansted (including a Sunday a.m return) for £101.
Where we played
Quinta da Cima Golf (000 351 281 950 580) : 18 holes – Length from 4971m (red) to 6256 (white). Par 72. Green fees E90 for 18 holes
Quinta da Ria Golf (00 351 281 950 580): 18 holes – length from 4980 (red) to 6016 (white). Green fee E90.
Benamor Golf (00 351 281 320 880): 18 holes – length from 4760 m (red) to 5497 (white). Par 71. Green fee E75
Helpful hints
Softspikes required on all courses. Handicap certificate preferred: 28 (Men), 36 (Ladies). You can get cheaper green fees if you book in advance through your travel operator or the Vila Gale hotel.
Where we stayed
Hotel Vila Gale Tavira, Rua 4 Outubro, 8000-362, Tavia, Algarve. Tel: 00 351 281 329 900.
Travel companies
Longshot Golf, 75 King Street, South Shields, Tyne & Wear NE33 1DP (Tel: 0870 6090995)
Russell Meek Golf, Riverside Golf Centre, Lenton Lane, Nottingham, NG7 25A (Tel: 0115 986 2179/2220).

If your interested in golf abroad then take a look at our Travel Partners who specialise in golfing breaks to European and Worldwide destinations.