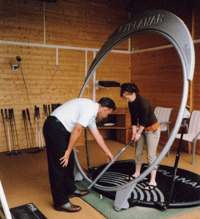 Learning the ropes with Peter Lester




It may sound crazy to most of you passionate golfers but for many of us golfing virgins, the thought of hitting a golf ball is scary.

For a beginner, swing a club with some element of confidence is intimidating. I grew up under the watchful eyes of a golf-obsessed uncle and father and have misty-eyed memories of watching them hit hundreds of balls on our dairy farm fields in South Australia.

And when they'd emptied their buckets it was a big thrill to race out on our motorbikes to collect the balls, which had escaped the cowpats!

Countless home videos feature golf at Meningie, a few hundred miles from the capital Adelaide, being pulled along on the back of dad's trolley – and later pulling it along for him. My siblings and I grew up surrounded by golf and Greg Norman panama hats but never summoned the courage to play - until dad bought me a set of custom-made 'teeny-tiny' clubs and a series of lessons.

However, at such a tender age, I lacked the drive and the patience to be bitten by the bug that gripped other members of the family.

Until now!

For many women with a golf-obsessed partner, the thought of a holiday break on the Portuguese Algarve, surrounded by pristine courses could be imagined as hell on earth. But I soon discovered the novelty of poolside lazing, spa baths, massages and trinket shopping can wear off.
Overcoming the fear
So with a 'if you can't-beat-em-join-em' spirit I decided to conquer my childhood aversion to embarrassment and take a lesson at the Vila Sol Spa Golf Academy on the Portuguese Algarve and prove to myself that learning to make contact with the ball can be fun.
PGA professional Peter Lester learned his trade in Sweden and the UK and now shares the coaching duties with Dutch-born pro Roel Gritter. It's one of the training schools which offer cheaper group lessons where you can learn with fellow strugglers and benefit from observing their progress as well as your own. I decided to learn golf one-to-one from scratch.
It soon became apparent that where mistakes and embarrassment are concerned, Peter has seen it all before and under his tutelage my tangled mess of fingers suddenly formed a logical and comfortable formation around the club. I had a proper grip.
Only a small step but a vital one. Suddenly, from making wild, erratic swings I was able to deliver a path with the clubhead to make contact with the ball. 'Impact!' as you golfers prefer to call it.
That sharp crack as the clubhead launched the ball into the air for the very first time became both exhilarating and addictive. I was on my way.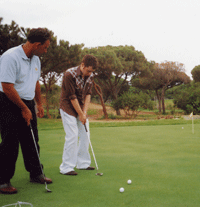 A pro in the making
Over the course of our two-hour session I discovered putting, chipping and how to escape from bunkers as well as shots from various tees which demanded short, half and full-length swings. Suddenly the different lofts, shafts and flexes on my dad's old clubs to hit the ball different distances was no longer a mystery. Ping! A light went on, the penny dropped.
As for my own swing, it was analysed and revealed to show improvement, thanks to a combination of a giant, circular swing-trainer and video replay technology.
Combined with discovering that etiquette meant more than being told as a child to 'Shut up! Dad's trying to concentrate!' my fear of looking a fool has evaporated.
I may swing it like Michelle Wie, with perfect posture and power but I can now strike the ball with some consistency and occasionally hit it half-decent.
To any 'golf widow' out there I'd say 'take the plunge; give it a go!' It's never to late to shock your golfing partners. At most courses and driving ranges in the UK you can get group lessons for around £30 for six half-hour sessions or as individuals for around £30 an hour with a junior assistant to show you the basics.
I've already warned my dad in Australia I'm coming home for Christmas. He needs to dust down his old clubs – his little Katie's looking for a game!

For more information on the Vila Sol Golf Academy visit www.vilasol.pt
If your interested in golf abroad then take a look at our Travel Partners who specialise in golfing breaks to European and Worldwide destinations.