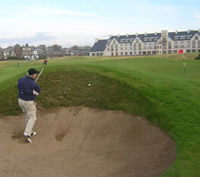 Editor in trouble at 16
Price: £99 (for fourball from November 12, 2004 to March 31, 2005). £98 per person (from April 1, 2005) – handicap certificate required.
When Tom Watson won the 1975 Open Championship at Carnoustie over five rounds (he eventually beat Jack Newton in an 18-hole playoff) he failed to par the 16th hole – a brutal par-3 of around 250 yards.
He bogeyed it four times and birdied once.
And after coming a cropper there myself last week I can see why.
As we approached my ball nestled below the face of the front bunker my caddie for the day, Carnoustie member David Bond, explained that the hole had been made even tougher for the 1999 Open.
The face of this particular trap had been steepened by at least a foot under the orders of the R&A and the greenkeeper in charge of its reconstruction, with an acidic sense of humour, had stuffed an empty cigar packet into this rivetted Eiger, which David claimed he'd found.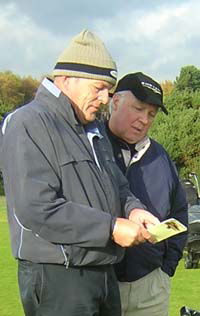 Dave Bond (left) discusses yardages with the Editor
Needless to say I too, had a 'Hamlet moment' – though I swear I hit five superb bunker shots, only for the ball each time to strike the face inches from the top and drop at my feet.
It was here that Carnoustie eventually brought me to my knees and I had to accept that it is truly the toughest – though fairest - course I've ever played.
A par at 17 and bogey at the legendary 18th – where five years ago Jean Van de Velde tossed his immortality into the Barry Burn – eventually lifted my spirits and I was able to look back with great affection on how the 'old lady' had tickled, teased and taunted my golf game.
As you would expect from a course that has staged six Open Championships and produced legendary champions of the calibre of Tommy Armour, Henry Cotton, Ben Hogan, Gary Player, Watson and Paul Lawrie teeing off the first in the shadow of the majestic Carnoustie Golf Hotel is intimidating.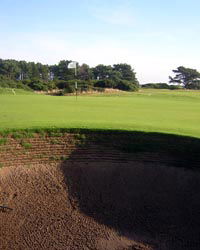 8th green
And these links, first used in the 16th century and re-designed by the likes of Alan Robertson, Old Tom Morris and James Braid before local man James Wright created the final, punishing stretch in 1937, should act as the benchmark for every golfer's real handicap.
At Carnoustie you will need every club in your possession – never mind the 14 in your bag – to meet the challenges that confront you.
Your driver will need to be arrow straight, your fairway metals workable from left and right from tight lies. There will be demanding shots for each long, medium and short iron, while the sand wedge requires both strength and finesse.
The putter in your hand will need to be as hot as a stoker's poker, to contribute less than 36 strokes to your total score.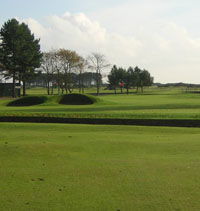 10th green- known as 'South America'
We were fortunate during our round to be faced with only a zephyr of a breeze on a calm October morning on the Angus coast but I was advised that it was no coincidence that the first five holes covered every direction of the compass – as a kind of mock-exam paper, just to see what the golfer's made of.
Hogan's Alley – the 520-yard par-5 sixth – then demands a drive be squeezed between a cavernous bunker and the out of bounds fence which separates the course from the adjoining Budden Links.
You'll play seven holes before your first par-3 but don't expect any relief from this golfing 'A' level.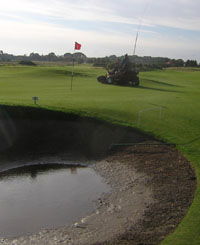 Heavy rain had softened the courses and flooded the bunker on 13.
'Short' it may be described on the card, but at 167 yards into a northerly breeze it is not to be confused with easy.
Four pot bunkers surround the green and with the bottom of the flagstick out of sight you'd better make sure your medium iron can reach!
The 10th has the unusual name of 'South America'– reputedly so called when one of hundreds of Carnoustie residents who emigrated in search of fame and fortune at the turn of the last century, got as far as one of the greenside bunkers after an alcohol-fuelled farewell. He was discovered the next morning.
It is one of the finest par-4s you'll find anywhere. At 446 yards it tempts the better player to go for the green in two, but punishes those who come up short. The deep and snaking Barry Burn will take its toll and the kidney-shaped green can catch the unwary.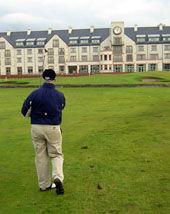 Approach to the infamous 18th green
The yellow Whin bushes which give their name to the 161-yard 13th are a picture in late spring early summer, but don't be fooled – any mis-hit here can wreck your card. There's probably at least three clubs difference from front to back of the green.
The home stretch at Carnoustie is as tough as any you'll find in the UK and Ireland – with the par-5 14th (featuring the double Spectacles bunkers) key protection for its 'stroke index one' degree of difficulty.
The 15th is where the 1999 play-off began and where Van de Velde's last hope disappeared, while 16, 17 and 18 demand precision to avoid Carnoustie's punishing hazards.
Verdict

Despite its near £100 green fee in the summer months – a pilgrimage to Carnoustie is a must for anyone who wants to know how good or bad a golfer they really are. And for an extra £13 the Links committee will even throw in a round at either the testing Budden or Burnside Links courses. Money well spent for those of us with a real passion for the game.
Golfmagic rating 9.5/10

*Have you played Carnoustie's Championship links? If so submit your own review in our new feature