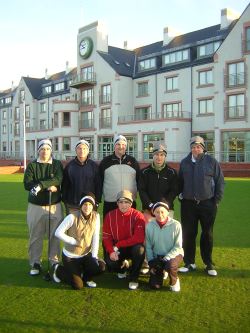 Back from the left: Tim Ellis, Alan Baker, Morris Forbes, Adam Laird, David Bond. Front: Helen Dawson, David McGuire, Christine Malcolm
While England braced itself for the worst gales in several months, a small corner of Scotland basked in watery sunshine with a slight nip in the air. Carnoustie was calmness personified.
And that came as some relief to five Golfmagic competition winners, who feared their chance to play the Championship links, a golfing mecca, might be spoiled by weather conditions that made it almost as unplayable as it was in the first round of the 1999 Open.
Then, only one professional (Can you name him? Answer at the bottom of the page) broke par and Sergio Garcia cried all the way back to Madrid. It brought the world's best to their knees.
But not this time. As storms ravaged the English coastline, Carnoustie's management quietly invited our lucky members to challenge its ancient links.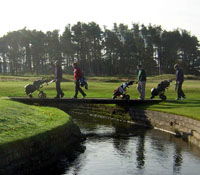 Crossing the burn at the 10th
"Come on," the links seemed to say with an icy breath, "let's see how good you think you are."
After being welcomed by Colin McLeod, Carnoustie Links Golf Services manager, we were joined by David Bond, a nine handicap Carnoustie member and former policeman who acted as caddie and fountain of much knowledge.
He has played here for 25 years and knows almost every blade of grass, every bunker and all the subtleties of Carnoustie's greens.
And he kept up a running commentary of anecdotes involving former championships played here, while tending flagsticks, reading putts, raking bunkers, offering yardages and generally giving wise counsel on course management.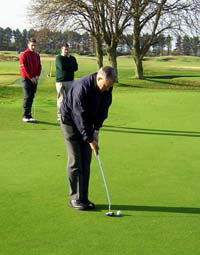 Baker putts out
As my secret weapon, his efforts should have been worth at least five shots and a similar number of holes apiece to myself and my partner for the day Tim Ellis, a nine handicapper from John O'Gaunt GC, in our match against Alan Baker (18) from Preston and David McGuire (15) from Glasgow.
But so generous was David with his knowledge that our rivals took full advantage to eventually emerge winners at the 15th (5&4).
To be fair, none of us acquitted ourselves to our potential and discovered that Carnoustie is the real benchmark, the true judge of a golfer's ability, not the familiar local course against which our handicaps are usually measured.
It was a similar story in our second group where Golfmagic's Adam Laird and Helen Dawson joined Morris Forbes (16) from Duddingston GC and Christine Malcolm, a 15-handicapper from Dollar and Muckhart Golf Clubs.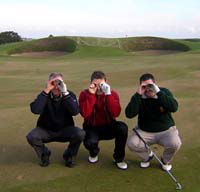 Spot 'The Spectacles!'
Though Morris achieved the only birdie of the day – a 6-iron to seven feet at the 167-yard par-3 8th – he said the course is a true examination paper for the average golfer.
"It is absolutely superb, there's not a better course in Britain. There are no weak holes and it demands every club in the bag."
David McGuire, a 20 year-old student from Windyhill GC admitted to finding it 'a bit of a slog' – "but it showed me just how good the pros are. For Colin Montgomerie to shoot 64 round here is unbelievable," he said, promising to come back at a later date, 'to see if I can play to my potential.'
Tim Ellis, was still re-living his round after his 850 round-trip back to St Neots in Cambridgeshire.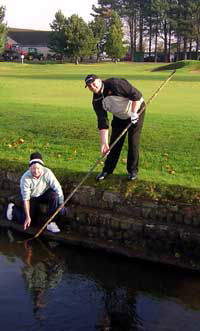 Christine and Morris in trouble again
"The whole experience was one I will long remember. The 10th (known as South America) was probably the best hole – a par four protected by the Barry Burn – but the par-5 Spectacles (15th) is one I'll remember, chiefly because I parred it.
"In terms of a challenge, it can be demoralising for anyone not playing well and I wouldn't recommend it to anyone over an 18 handicap," he said, "but it's an awesome place to play."
Alan Baker, from Preston, was in awe of the place.
"Fantastic," he said " I felt it was a great privilege to play here and walk where legends had walked before. When I tell my golf pals about this, they'll all want to try it."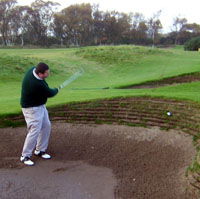 Tim is bunkered at 11
For Christine Malcolm, a 66-year-old grandmother, it was a return to her roots, where she played in the 1960s.
"I only got one par – the 16th which is a par-4 for the ladies - but it was great to play it again. I only wish I could reproduce the length I had in those days, even with persimmon headed clubs," said Christine.
If you're planning to emulate the Golfmagic winners, the Carnoustie Golf Links Management Committee has introduced a special winter deal that could get you on for under £25 between November 15 and March 31.
A new deal means a group of four golfers can book a tee time for £99, though it means playing Carnoustie's 'winter rules' which means playing all shots between tee and green (apart from the rough and bunkers) from artificial mats you carry with you.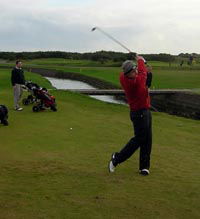 McGuire fired into the 17th green
"We believe this still offers visitors outstanding value for money," Colin McLeod, "but it reflects the fact that golfers have to play off mats but it still gives them the unique opportunity to play an outstanding Open venue for less than £25."
Golfers who want to book a winter tee time should call 01241 853789. Times can be booked either in advance or on the day, subject to availability.
Golfmagic is grateful to the Carnoustie Links Management Committee for their donation of two tee times and to FootJoy for the supply of appropriate woolly hats and mittens for each competitor.