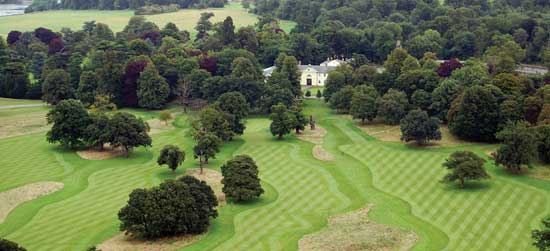 Aerial view of the Luton Hoo clubhouse and opening and closing holes
    Just yards from the muffled roar of the M1 motorway and with jets powering into the skies overhead from a busy airport, it's hard to imagine more of a potential distraction when playing golf. But despite the 'noises off', I found almost complete tranquility on our visit to Luton Hoo, the former Bedfordshire stately home and now the flagship UK destination of the Elite Hotels group.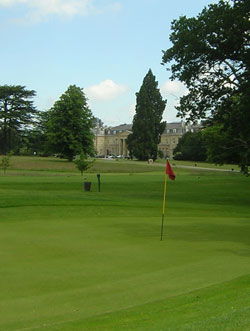 Mansion backdrop to the 9th green




Luton Hoo - the word is anglo Saxon meaning the spur of a hill - is a big course in every sense and allows you to open your shoulders during the front nine. But it demands a certain conservative care over the remaining holes as the rough squeezes in to test your accuracy off the tee.

Hundreds of trees on this 1,000-acre estate were planted by the renowned 19th century landscape designer Capability Brown and we're told not one was removed to accommodate the golf course. It was originally built as a nine-holer in Victorian times but destroyed during the Second World War when Winston Churchill commandeered the land for training manoeuvres by military tanks newly-built nearby.

Many trees have since been transplanted as saplings from other areas of the estate, when the course was refurbished and extended into 18 holes only a handful of years ago. Even so, it must have been a mouth-watering prospect for course architect Mike Smith from Mass Designs to have been offered such a piece of land to develop as a golf course.

Meandering as it does from the shadows of giant, mature trees to sweeping open ground and back again, it finally channels the unsuspecting golfer towards the magnificent Mansion, demanding accuracy off the tee to leave approaches to greens that avoid giant oak and beech tees overhanging the fairways.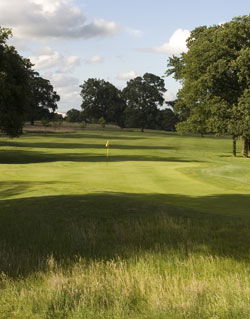 The rough around the greens can be punishing




On our visit we chose to take on the course from the intermediate yellow tees having discussed with one of the local members, the prospect of the lush, dense rough which borders every fairway, gobbling our ammunition.

We agreed that even among those golf pros competing in this week's US Open, Luton Hoo's notorious rough might prove too much for even their strong forearms.

Between the two of us - combined handicaps 25 - we lost half a dozen balls and found only one. Hardly a fair return on an investment that usually costs £60 a round (£39 July/August with £25 twilight deal from 4.30pm). However, the extra £20 you pay for coffee, bacon rolls and a sumptuous two-course meal in the Adams clubhouse brasserie or the hotel's Wernher restaurant comes highly recommended.

Strangely, an unusual option I have never seen at a golf course was the opportunity of father and son to play 18 holes at a special rate of £50 each to include an 'all day breakfast' - presumably before during or after the round.

Despite these times of equality, the Luton Hoo management doesn't say whether this deal might might be available mothers and daughters or even me and my grandson, were he old enough to swing a club!

Apart from the historic backdrop of the Mansion, Luton Hoo has one other almost unique feature - there are no bunkers. But as Berkhamstead and Royal Ashdown Forest have long discovered, the lack of them is of little consequence when other features are equally demanding.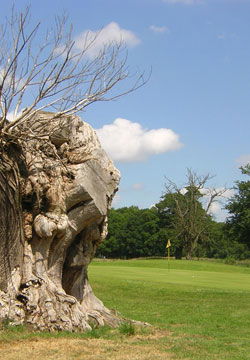 Petrified oak beside the 13th green




Apart from the rough - albeit bordering fairways which are upto 70 yards wide - water encroaches on the 3rd, 4th, 7th and 8th holes. It also needs to be carefully negotiated on the par-5 11th and carried off the tee on the 12th.

Luton Hooe's signature hole is appropriately the 13th, unlucky for some but charmingly named Oaks Rest. It's an attractive but brutal par-3 of 246 yards, flanked on one side by two impressive petrified Oaks and featuring a long, narrow uphill green. My Cobra L5V driver got me to the front fringe and three putts later I carded a bogey four. Not many par-3s deserve a No.2 stroke index but this one surely does.

Capability Brown must surely have had golf in his long term plans when he planted the part of the estate which hosts the closing holes, for the positioning of these ancient specimens is magnificent. The course demands you thread your ball around and under them if you're to make your pars but even on reaching the smartly-maintained greens, nothing is guaranteed.

At risk of them becoming too patchy, the greens staff have rightly tended to keep the putting surfaces on the slow side of medium-paced. They're perfectly smooth but need a little more of a rap to get the ball to the hole with any consistency.
Verdict

Luton Hoo is the kind of course where you should indulge yourself and your friends. We saw only a handful of other groups on the course on a baking June Tuesday, enjoyed the tranquility of birdsong, the occasional birdie (one actually) and awe-inspiring glimpses of the magnificent Mansion. Next time you're passing Junction 10a of the M1 or heading toward Luton airport, check out the signs to Luton Hoo. It's highly recommended and the food's superb.
FACT File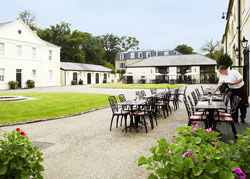 The Adams-design clubhouse courtyard and brasserie




Summer packages (resident or non-resident): 18 holes £60 (£39 from July 1 to August 31). Coffee/bacon rolls, 18 holes + 2-course lunch £80. Society rate: Coffee/rolls, 18 holes + one-course lunch £70.

Corporate rate: Coffee/rolls, 18 holes (course planner) 2-course lunch in private facility £114 (June/July/Sept), £104 (Apr/May/Aug/Oct).

Twilight Golf (from 4.30pm May to August) £25.

Father and Son golf: 18 holes all-day breakfast (until June 30) £50 each.

Residential package: dinner (table d'hote) B&B and 18 holes £179 per person per night. For further information visit: www.lutonhoo.co.uk or for reservations, call 01582 698888.