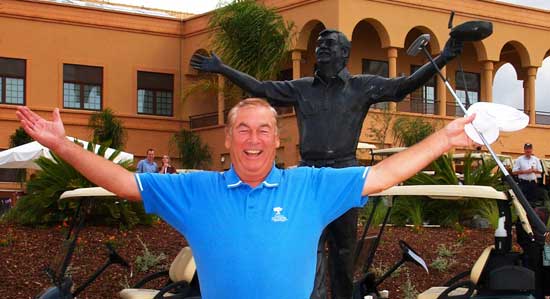 Christy O'Connor Jr in front of his statue at the Amendoiera Resort
  Christy O'Connor Junior - the golfing legend who won four European tour events and two British Senior Opens and now at 61 is building a worldwide reputation as a course designer - is one of the game's great raconteurs and the type of player any golfer would want in his fourball.
The Irishman from Galway, was best known for the 2-iron shot he played to the final green at The Belfry in 1989 against Fred Couples, which helped Europe retain the Ryder Cup - a club that was subsequently stolen from his Newcastle hotel room and the subject of an outrageous ransom demand.
I caught up with him in Portugal recently during a visit to his superb new course at theAmendoeira Resort near Silves built on reclaimed farmland which he has transformed into a layout which is mouthwateringly playable - from high handicapper to Tour professional.

He recalled: "Three times, that 2-iron raised over £50,000 for charities and each time the generous new owners gave it back to me to be auctioned again. I was taking it with some old wedges to St Andrews to have the grooves checked ahead of the Open there that year when it was stolen from my hotel.

"The police found the wedges at the bottom of the River Tyne but never found the 2-iron, though I did get one call saying I could retrieve it if I left £5,000 in a local bookies! The police believed the call was bogus and advised against it."

Sometime later O'Connor was playing in Kenya and took a group of nuns and priests out to dinner to thank them for their missionary work in the bush.

"One of the nuns asked if they could auction my 2-iron to raise money for a local school but I had to tell her it wasn't the same 2-iron I'd used in the Ryder Cup.

"Quick as a flash she just looked me in the eye and said 'Ah, Christy, who's to know?'"

He laughed at the memory as we continued on our Tour around a course which is one of his proudest achievements and which hosted the pro-am ahead of the 2009 Portuguese Masters.

"Some of the courses they're building these days are ridiculous. I've heard of holes which are 590 yards. A guy paying a green fee doesn't want holes like that. I played a course recently with four par-3s all over 240 yards. Par-3s used to be gorgeous holes where you shaped a 5- or 6-iron left to right or right to left. Now it's a 3-wood."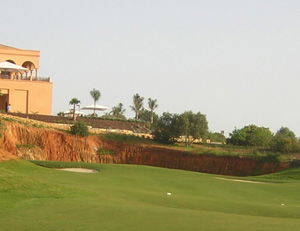 18th green on the O'Connor course




O'Connor says his fairways at Amendoeira average 70 metres in width and if he gets a tournament he can let them grow in because the grass type is the same for both fairway and rough.

"I also create large greens with many different pin positions to give me options when back tees are used," he says.

O'Connor also designs his courses where hazards are brought into play from the white or yellow tees.

"Some societies who play here have scratch players playing off the yellows, and I don't want them driving over all the hazards and making it easy for them."

He says his philosophy is to have six tees on every hole.

"From the back tees my course here is 7,400 yards - and six tees on every hole gives a player a choice. And in bad weather the choice is also there if you need it. "

O'Connor claims he doesn't believe in signature holes but likes to create a demanding and interesting 'run' of holes featuring rolling, undulating greens.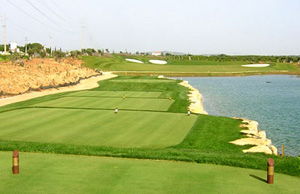 Line of tee options at the dogleg 10th




"Holes six to nine is a lovely run - my Amen Corner - then there's 14-18. If you finish with par on the last five holes, my feeling is you've done rather well," says O'Connor who won two events on the US Champions Tour during his distinguished playing career.

I asked if he has an amateur player in mind when he's designing his courses.

"I always run with a 15 or 16 handicapper in my mind. You're always going to get the bulk of the world at that level. In America it's a little above that but in Europe you have to make it playable for a player of that level. You can't build a golf course for one tournament a year."

O'Connor works with a course architecture specialist Hector Nelson, who transforms his ideas for holes from scraps of paper - and the occasional 'back of a cigarette packet' sketches - into technical drawings and routings. In turn these are interpreted by a Dublin company who carry out the course construction.

"They do an incredible drive through. They do the 'cut and fill' work which is incredibly important. If you've got rock or hard hills on the site, whatever is taken off has to be placed elsewhere on the course."

So what does he say to those who claim 'Course design, where's the difficulty? A tee here, a green there - what's the problem?'

"Oh God, you have to be able to play the golf hole. In design, there should be a huge difference for a player going down the left as opposed to going down the right of a hole [where most amateur swings tend to send the ball]. One can lead to a birdie, the other can lead to a bogey. There needs to be different sides to the green, trouble on one side; bail out on the other.

"There should be an easier way to play the golf hole if you're straight. Bail out should be longer and coming in from a different angle," says O'Connor.

Tiger Woods is reported to have made 27 visits to the first course he's designing in the US (The Cliff in North Carolina). How many will O'Connor make to a project?

"I've probably made 50 visits here to Amendoiera in the making of this course - and I'd always do 30 at any course i design. Most guys do four or five, their teams would do the rest.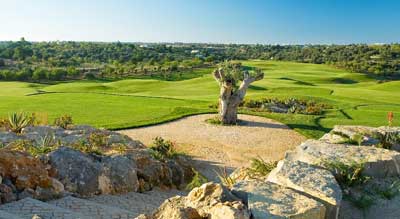 Range at the Amendoeira Academy




"And I've no doubt Tiger's design commitments will be affecting his play. I've spoken about this to Colin Montgomerie, Jack Nicklaus and Paul McGinley and they all agree it can ruin your golf game. You maybe pass a bunker and think 'that's great, I must try that on one of my courses' but it really needs to be the last thing on your mind when you're playing a tournament. You need to be blinkered - the two jobs are miles apart."

Adjoining the O'Connor course at Amendoeira - both projects part of the Oceanico Group's Silves development - are 18 holes designed by Nick Faldo on more undulating land that rises above the resort.

Here, the six times major winner has used Rocky outcrops, meandering water courses and views to the distant mountains and orange groves to define its character with expansive bunkering and run-off areas around the greens. From the first hole, a challenging uphill par-4, to the last, a magnificent par-5, it has been designed, with strategy and finesse in mind.

Other golf amenities nearby include the Amendoeira Golf Resort Academy and Callaway fitting suite, boasting every practice facility for the amateur and Tour professional. the resort also has a 9-hole par-3 floodlit course. There are also six championship tennis courts, a full size football pitch, two bowling greens (crown and flat) and two five-a-side football pitches.

With the launch of Amendoeira, Oceânico Golf increases its portfolio to seven championship venues in the Algarve. The company also owns the five courses at Vilamoura - Oceânico Victoria, The Oceânico Old Course, Oceânico Millennium, Oceânico Laguna and Oceânico Pinhal.

For further information about Oceanico resorts in general and the Amendoeira Rsecort in particular, visit www.oceanicodevelopments.com.