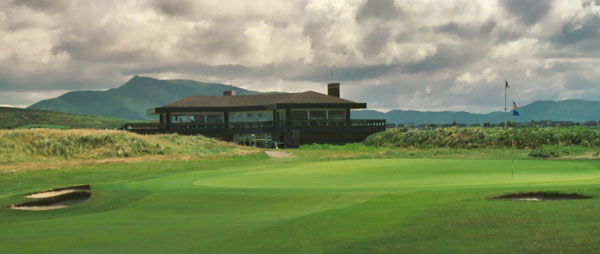 Iconic Waterville's 18th hole and clubhouse
  Tucked away just off the famed 'Ring of Kerry' with only local sheep and cows for company, lies a golf destination that seems as if it hasn't been out of the world's top 100 'must play' courses since Old Tom Morris last swigged a drammie.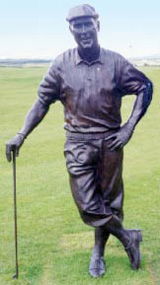 Statue of Payne Stewart




In fact, glorious Waterville, originally created as a modest nine-holer around 1900, lay neglected in the 1960s until Irish-born American John Mulcahy his friend Claude Harmon - ex-US Masters champion and father of coach Butch Harmon - and Ireland's best known links architect, Eddie Hackett, joined forces to work their magic.

In 1973 the course opened and has been revered by golfers around the world ever since - among them Sam Snead, Nick Faldo, Tiger Woods and the late Payne Stewart, who had accepted the honorary captaincy shortly before his death.

A life-sized bronze statue at the course stands as tribute to Stewart's relationship with Waterville, to which he brought a string of fellow professionals to savour the unique experience of links golf in its rarest form.

It reminded me that I'd enjoyed friendly banter with the great man at Brookline in 1999 when I rebuffed his claim that Murphy's was a better pint than Guinness! He loved it that I wasn't agreeing with him and revealed that his visits to Waterville were among the most enjoyable of his life, which was cut short so tragically.

In 1987 Waterville was sold to a small group of Irish Americans who loved the game of golf and embarked on a new chapter of its fabled history.

They invited golf architect Tom Fazio to update the Hackett masterpiece and the man who had left his indellible touch on Winged Foot, Pine Valley and Augusta National jumped at the chance.

"Everything about Waterville is truly spectacular. The setting is one of the best I have seen for golf," he said, completing the project only three years ago. He even designed a unique practice facilitiy.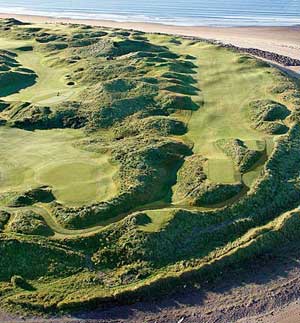 The 16th hole follows the natural curve of the estuary




Golfers visiting this golfing mecca, close to Ireland's south-west tip receive a warm welcome from club manager Noel Cronin and we were no exception, completing introductions with the local caddies he had set up for round.

The original nine holes have been re-configured and expanded to create a front nine that's a contrast to the more rugged and exposed back nine. But that's not to say even single figure handicappers are given a comfortable start.

The test begins immediately on the first tee, named 'Last Easy' and ends with the challenging 'O'Grady's Beach'. the course stretches over 7,300 yards of demanding terrain that will examine every club in your bag as well as your mental fortitude.

As soon as the second and third holes - stroke index one and three respectively - shows its teeth. The second hole demands an accurate drive and a mid-iron approach to a slightly elevated green protected by deep pot bunkers on either side and the estuary beyond.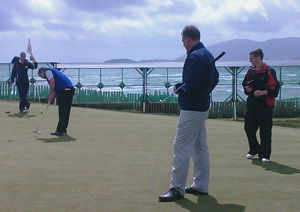 Putting out on the 16th green




You'd accept par-4 here every time but I managed to fire my 4-iron to 10 feet then lip out for birdie. The third hole took us back into the stiff breeze off Ballinskelligs Bay playing all of its 425 yards and requiring a hybrid approach to a green protected by water and a deep swale.

The remaining six holes of the front nine are a great mixture of change of direction, elevation and weather conditions with my caddie advising that players can experience four seasons in this stretch and the need for nearly every club in the bag to be used at least once.

The back nine meanders strategically through rugged dunes where the stiffening wind creates no-go areas from which no man will make par.

Fazio's signature is the short 12th – Mass Hole – which has a natural amphitheatre short of the green, reputedly a 17th century sanctuary where Catholics prayed away from the prying eyes of the Protestant William of Orange.

Needless to say one more club than it looks is suggested by the caddie to a large, elevated but reasonably flat green.

Holes 14 and 15 are solid par-4s at 430 and 450 respectively and remaining three holes are perched on the side of the beach with 16 and 17 featuring greens protected by steep run-offs front and flanks.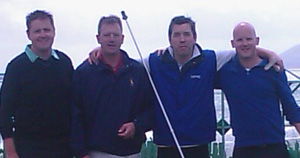 Article author Michael 'Smiddy' Smyth (second right) with, from the left: Andrew 'Daddy' Strange Chris 'Montecristo' Fitt and Dan 'Bono' Chalmers.




It was after clubbing short on 17, finished 25 feet below the green, that I pitched in (on the fly!) as Mark O'Meara had done on his way to winning the 1998 Open title at Royal Birkdale.

It clinched the match and, perhaps more important for this man from Londonderry, the pre-round wager for me and my playing partner.

Just as well honours were decided ahead of the par-5 18th, which demands tee shots start on the line of the beach and trust the Atlantic wind to drift the ball back into play. We all bailed out left and the best score recorded among the group was a bogey six.

We felt we'd earned our welcome pint of Guinness as we took away a bucketful of memories from this heaven on earth.

If you're a lover of the links it's worth every cent of the 130 euro we each spent on the experience.