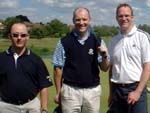 James Turner,Greg McDonagh and Gordon Clark




Golfmagic's highly successful golf day at Collingtree Park, Northampton ended on a sour note on Friday when thieves stole the winner's clubs.

James Turner, a left-hander from Derby was receiving a bunch of prizes for his 37 points round the popular lakeside course – and the congratulations of fellow Golfmagic members - when the robbers targeted at least three vehicles in the car park.

It spoiled what had been a great day, said James.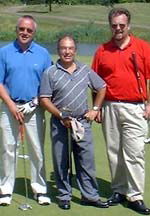 Colin Greenless, Alan Taylor and Matt Hamer
"The worst thing about it is that, being a leftie, I have a very limited selection of clubs to choose from and it has taken me several years to finally put a set together that I was really happy with. I had my new bag for about 18 hours."
Among the items stolen were a Mizuno MP001 driver (10 deg regular shaft), Cobra SZ440 (10.5, reg), Wilson Deep Red 3- and 5-wood, Cobra SS OS irons (4-SW), Cobra Phil Rogers wedges, (50 and 60 deg), Odyssey DFX 1100 putter, Ogio Ego bag (black/blue), PowaKaddy twin-pac 3 pull trolley, Proquip rainsuit (blue and black), Wilson Deep Red short-sleeved wind top and Ashworth Collingtree Park sweater (bought that morning).
If any golfers hear of such left-handed clubs being offered for sale in suspicious circumstances they should report it to their local police.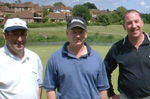 Ian Miller, Chris Biggs and Andrei Szakalo
Already, Collingtree Park has offered James the chance to return free of charge with three friends and Golfmagic members have come forward with offers of replacement clubs until James can sort out his insurance claim. If you can help him he will be delighted to hear from you via the forum.
In fine conditions on a firm-running course with slick greens, James' points tally was two clear of Chris Biggs, who beat Chris Curry on a countback for second place.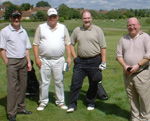 Neil King, Laurie Woolcott, Chris Curry and Alan Hardy
Other scores: 34 – Paul Lovesy, Gordon Clark, Andrei Szakalo; 30 - Alan Taylor, 29 - Gil Harding, 28 - Tim Reay (who also won the prize for nearest the pin in three shots at Collingtree's signature 18th hole with its island green), Greg McDonagh, 27 - Neil King, 26 - Alan Crofts, Matt Hamer, 25 - Ian Miller, 23 - Colin Greenlees, 13 - Alan Hardy.
On the forum competitors have been offering their best and worst moments of the day.
These included Greenlees' out of bounds off the first tee, a overfly by the Red Arrows and the good, the bad and the ugly as players attempted to reach the final green, which was surrounded by water.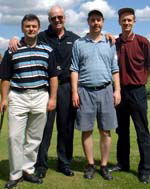 Paul Lovesy, Gil Harding, Alan Crofts and Tim Reay
Finally a big thank you on behalf of Golfmagic and all those who took part, to Gil Harding from Southampton who organised the day and to all those who donated prizes for the event.
Look out for another Golfmagic day later this summer, open to GM members and their friends.