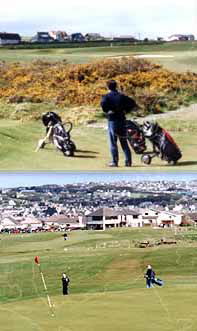 Golf in the Orkney Isles




It's an appropriate week to focus on the Orkneys – the islands off the north east coast of mainland Scotland – as a golf destination.

It's one of the few places in the UK where you can play at midnight during the summer solstice (the longest day, June 21).

The islands are hoping to attract golfers to their unique style of the game rather than repeat a tried and tested format of lush, mature parkland, exposed moorland or overcrowded links, available elsewhere in the UK

Backers of the new Golf Orkney initiative are confident that players who tackle their courses in Kirkwall and Stromness will discover that occasional wild weather is just one memorable ingredient in an unforgettable sporting experience.

Maureen Shearer, development manager at Orkney Enterprise says: "Golfers will dine out long after their visit with stories of driving a tee shot at midnight on the longest day of the year. And they will leave Orkney having enjoyed golf surrounded by some of the most stunning scenery imaginable."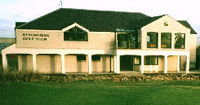 Clubhouse at Stromness
The Orkney (Kirkwall) and Stromness clubs have teamed up with eight hotels to provide a new stay-and-play deal for golfers. For a fixed daily fee of either £45 or £55, depending on their choice of hotel, visitors are offered bed-and-breakfast and the chance to play on either or even both courses.
Funded by Orkney Enterprise and Orkney Islands Council, with backing from Europe, the scheme has created www.golforkney.com. Here, accommodation with passes for the courses can be booked on-line. It has also funded promotional literature for distribution to golf clubs throughout the UK.
Ms Shearer adds: "The aim is to generate a new tourism market for Orkney. We hope it will prove attractive to golfers looking for a new challenge – a good value opportunity to play a round or two while enjoying a holiday in the islands."
The Kirkwall course is set on the hill above the harbour, with views to the North Isles. It has challenging ditches and even a quarry, which can catch out unwary locals and visitors alike.
Stewart Fotheringhame, past-captain at Kirkwall says: "A round here will always be a great experience for someone tackling the course for the first time."
"It's in very good condition and the playing conditions are different every time you play because of our exposed setting – and the views out to the North Isles and over the town to St Magnus Cathedral are always magnificent."
"Whether you're a scratch golfer or beginner, all visitors enjoy a warm welcome and some of the most hassle-free golf they'll find anywhere in the country."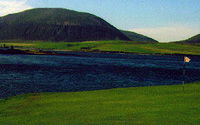 Dramatic 13th at Stromness
Stromness sits in the spectacular setting of Hoy Sound with the 1000ft cliffs of St John's Head on Hoy as its backdrop. There's also a new clubhouse and bar.
Graham Bevan, Stromness Golf Club's secretary, says: "We're confident that visiting golfers will find playing our courses a special experience."
"The atmosphere is relaxed, the holes are challenging and, if the golf isn't going too well, there's always a spectacular view over the sea to Hoy to enjoy."
"Getting more golfers to visit Orkney is a great idea. It's good for the hotels and good for the clubs."
Hotels taking part in the initiative are the Ferry Inn, the Foveran, the Orkney, the Queen's, the Royal, the Standing Stones, the Stromness and the West End.
Tony Scott, one of the partners involved in running the Queen's Hotel, Kirkwall, says: "For people used to playing on courses surrounded by trees, this is a great way to enjoy a golfing holiday with a difference."
"Nothing like this has been tried before - it's really positive way to promote a new tourism market for Orkney."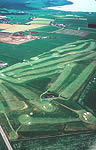 Aerial view of Orkney GC at Kirkwall
Highlands and Islands Enterprise's Karen Powell adds: "While we may be windswept up here, our islands are far from barren and, in fact, are very green and fertile. We enjoy very long summer days and midnight golf in mid-summer. This week (including the longest day) is a feature of a busy golfing calendar."
To reach Orkney you can fly with Loganair (BA franchise) from Aberdeen, Glasgow and Inverness (01856 872494) or www.loganair.co.uk
On approach into Orkney, you'll enjoy a glimpse of the bigger picture – the many islands that surround the mainland. There are also island-hopping flights between Kirkwall and six of the northern isles in an eight-seater aircraft which swoops low over the northern firths and sounds. There are stunning views of red cliffs, sandy beaches and translucent seas. And for the true adventurer, the shortest flight in the world is available between Westray and Papa Westray – all of two minutes!
There are several ferry options, including Northlink Ferries from Aberdeen to Kirkwall, or from Thurso (Scrabster) to Stromness from £12 (£38 per car).
Further details are available from Orkney enterprise (01856 874638) or email: m.shearer@hient.co.uk
You can also contact Ridgway Travel (01856 873359).