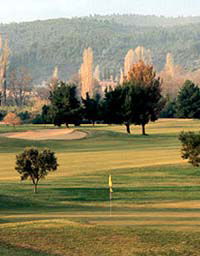 Porto Carras – horror story
In my all too brief love affair with golf I have been lucky enough to play some of the finest courses on the planet.
But I have also had the misfortune to have suffered for my art as a golf journalist on some of the world's worst.
And while Augusta National, La Cantera and Lake Nona in the US, Les Bordes in France and Turnberry in Scotland easily make my top ten, a little-known operation in Greece gets my horror award.
Designed by no less a visionary than Donald Steel, Porto Carras – a two-hour drive from Halkidiki must have looked good on the drawing board but sadly on my visit a few years ago, it had fallen deep into neglect and disrepair.
Sea water from the Aegean had leaked into the sprinkler system and turned the water brackish. As a result the fairways had turned to mere soil with the odd tuft of grass emerging, the bunkers were like sand-paper and the greens patchy, lumpy and bumpy.
It was a Greek tragedy…but that they were still happy to demand the equivalent of £7 a round to play.
It was so bad I even played it twice – because I thought I might never get the opportunity to experience a course in such poor condition again.
I'm advised that it is now much improved with the refurbishment of a top hotel nearby but on my visit it was a disgrace.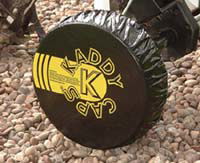 Kaddy Cap trolley wheel cover
Now we want you to tell us your horror stories of golf courses you've played either at home or abroad and we will publish a list of shame on the forum,
We'll even offer prizes of new Kaddy Cap disposable trolley wheel covers (pictured above) to the 20 submissions we feel most deserving.
Kaddy Caps (£3.99) are an innovative idea from Pro Tour Golf (01942 276896) offering a simple solution to the mess that builds up in our car boot when we load our trolleys in to the car. Grass cuttings, leaves and mud can quickly turn a clean car boot or locker into a muck heap.
They have been made to fit all brands of powered trolleys – including PowaKaddy and Hill Billy – as well as pull-carts.
Gary Lacey (45) a sales supervisor in Wigan, plays county golf for Lancashire and says: "Basically, I'm lazy and Kaddy Caps are ideal for me because it saves me having to do a job I used to leave for months on end. And because they're disposable and cheap, I just get a new pair whenever I need them."
Dennis Goulding (31) is a car body shop manager who plays off an 18 handicap. He says: "I spend all day looking at messed-up cars, so the last thing I want to do after a round of golf is vacuum the car boot."
And Bonner Hingeley (42) a holiday park owner and 10-handicapper from Abergele, North Wales, says: "There's always a load of junk in the boot of my car, so I'm forever stuffing my electric trolley onto the back seat. But the mess it made used to drive my missus potty. With Kaddy Caps I can get the trolley in the back with no mess. It's kept the car smarter – and may have saved my marriage!"
So, Kaddy Caps is the prize, now all we need is your submission, for a chance to win them.