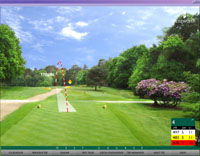 Virtual Caddy shows 4th at Wentworth
If you're planning a trip to one of the dozens of UK courses featured on the www.virtualcaddy.com website, you can get real insight on how to play your round.
This new facility is growing in popularity around the country with over 70 leading courses already set to use the service.
Among them are the Wentworth Club - home of the HSBC World Matchplay – Walton Heath, Hollinwell, Carnoustie, Hunstanton, West Lancs, Saunton, Forest Pines and Royal Portrush.
Virtual Caddy is golf's latest technological breakthrough and provides a hole-by-hole course guide, enabling golfers to visualise the 'perfect round' using digital photographs, animated graphics, audio tips and local knowledge provided by each club's professional.
The voice on the Wentworth 'round' is that of Bernard Gallacher, the former Ryder Cup captain.
"While generally it's only Tour pros that play every round with a caddy, Virtual-Caddy means that mere mortals can now walk courses like the Burma Road with the former Ryder Cup captain before they play," says Jim Martin, managing director of Virtual-Caddy.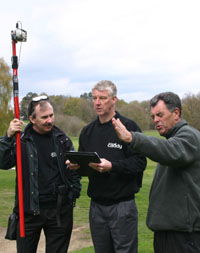 Gallacher (right) records his commentary
Adds Wentworth's Julian Small: "Virtual-Caddy's use of new technology, allows golfers a sneak preview of our course and is part of our strategy to enhance the customer experience."
Virtual-Caddy also enables clubs to send a out a course preview with their corporate and society invitations.
Check out Virtual-Caddy, as it's now is offering discounted access to its courses for a limited period.