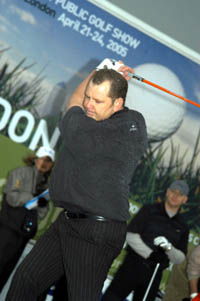 Paul Slater in action
Bolton club professional Paul Slater (34) has set a new world long distance record for a golf ball struck by a driver…720 yards.
But don't try this at home – unless, of course, you have a half-mile long runway in your back garden!
Paul set the record at London's City airport, the ball bounding 24 yards further than the original record set last month in Australia but PGA Tour regular Stuart Appleby.
He said: "I knew it was right as soon as I hit it. You know when you've hit a good shot, the surge goes right through your body. That's what we do it for, really."
The current RE/MAX European Order of Merit holder and 2004 Scottish long drive champion, remained outwardly calm despite all the acclaim from his fellow long driving competitors and celebrity golfers.
The secret of his success, the Warrington golfer insisted, is about practice and the quality of the club he used.
Paul's was a new SMT head with two degrees of loft and a 50 Apache shaft which he described as 'the stiffest I've ever tried.
"I took some loft off the club I was using after the first couple of hits because the ball was losing energy on the runway as it was dropping from a height. I owe a lot to Mike Tait, of SMT. Without him I would not have achieved this."
Ross Broadstock, managing director of the London Golf Show, which hosted the event, explained: "Like everything else to do with the London Golf Show (April 21-24 ExCeL Centre) this has become huge. It's the first time we have done this and golfers from across Europe turned up and we broke the world record."
Junior golfers and celebrities – including rock legend Rick Wakeman, and rugby stars Zinzan Brooke and Simon Shaw – also participated, with Shaw taking the amateur prize with 465 yards.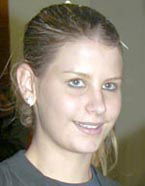 Bianca Finn
Petite Bianca Finn (aged 14) from Rugby produced the best amateur effort with 510 yards – a new world runway record for girls under 15. She used a BitePower driver, with a standard BitePower performance shaft and Wynn grip.
Eleven year-old Rhys Pugh from Pontypridd and Daniel Gosling (14) from Bristol both hit 385 yards while seven year-old Maxwell Martin from Solihull reached an amazing 303 yards. All established records for their age groups.
*Phil Mickelson won his second successive event on the US PGA Tour, claiming the AT&T Pebble Beach National Pro-Am by four strokes from Canadian Mike Weir. Mansfield's Greg Owen jumped to 108th in the world rankings with third place and cheque for $360,000.
Ex-Ryder Cup winner, Niclas Fasth (Sweden) fired his second 63 of the week in the final round of the Holden New Zealand Open to tie England's Miles Tunnicliff, then win with birdied the second extra hole of a play-off.