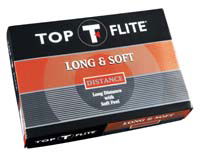 Top-Flite's LongSoft Distance ball
The Top-Flite ball, popular among mid to high handicap golfers, aims to distance itself from its rivals with its latest range of balls soon to be available.
The company, now part of the giant Callaway group, plans to reduce its ball models, saying it will 'make it easier for golfers to pinpoint the golf ball science that best fits their game, while maintaining maximum distance.'
Top-Flite Long and Soft Distance (£19.99 per dozen) is a durable two-piece ball with a seamless dimple design 'for added distance and more-consistent ball flight', while the two-piece T-F Long and Soft Straight (£19.99) has a SlickKote coating which the makers claim reduces hooks and slices. The T-F Complete Distance (£14.99 for 15-ball pack) has a dimple pattern which the makers reckon is purely for raw distance, while The SlickKote on the T-F Complete Straight ball (£14.99 for 15), is added to reduce sidespin.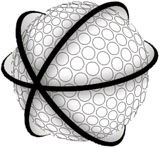 Aerodynamics of latest Top-Flite balls
The thin-covered, low compression T-F Complete Soft (£14.99 for 15) is designed to explode off the clubface at low swing speeds.
Adding to the range is the StrataTL Tour and Strata TL Distance (£40 per dozen), are they are reckoned to be scuff-resistant and impregnated with a star-like dimple pattern for extra distance.
Says Top-Flite's managing director, Neil Howie: "This is Top-Flite's best, most-comprehensive golf ball line-up to date. We are able to combine unique materials into our different golf balls to achieve outstanding performance and greater playability for a wider range of golfers."
Sister company Ben Hogan Golf has unveiled the new Ben Hogan Tour Deep ball with the thinnest urethane cover on the market and six deep dimples and which it says will 'create turbulence in airflow and improve aerodynamics for superior distance.'
For your nearest Top-Flite and Ben Hogan stockists call 0800 7311 480.