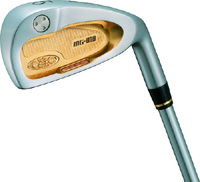 Honma's gold-plated MG-818 iron
Honma has a worldwide reputation as a producer of hand-made, high-quality golf equipment but will be a new name to many UK golfers.
The 'made in Japan' brand is also known as probably the most expensive in the world, which only the richest golfers can afford.
Oscar-winning actor Jack Nicholson is known as a fan of Honma clubs and indeed allegedly used a 2-iron wrenched from the boot of his car, to smash the windscreen of a motorist who 'cut him up' at a Los Angeles traffic light!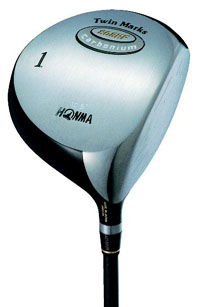 Honma 808 RF driver
Nicholson later apologised and settled out of court with shocked 38-year-old salesman Robert Blank. Fellow actor Joe Pesci and singer Marc Antony, husband of another golfer, Jennifer Lopez, are also known to favour Honma clubs.
Honma, however, believe its equipment is better used on the golf course than swung in anger as a weapon – especially when they can cost as much as £3,094 for a set of eight gold -plated Twin Marks MG-818 forged irons or £1,039 for their latest flagship MG-460 RF driver.
For the slightly less pretentious, you can pick up a set of Tour World PF cavity back irons for as little as £1,272 with steel shafts or £2,000 with graphite. The new Twin Marks 808 RF Carbonium 410cc driver costs £811 and the Tour World 460 a mere £787.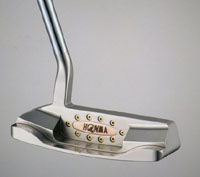 Stylish Honma putter
Honma believes it can charge top prices because its golf clubs are 'a work of art', hand-made by Japan's finest golf craftsmen in Sakato, where 70 per-cent of the 16,000 adult working population are employed by the company.
The company also makes fairway metals up to 11-wood loft from around £400 each, forged wedges from £159 and a selection of putters. The most expensive is the £770 LB-201 carbon-shafted putter with a platinum finish.
Honma Golf UK is based as 38 High St, New Malden Surrey, KT3 4HE (Tel: 020 89429924).