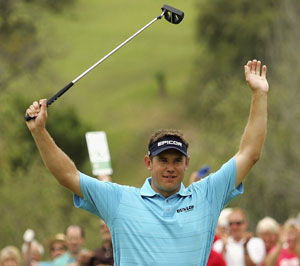 Lee Westwood celebrates his win in Spain with his prototype putter
One man's meat, they say, is another man's poison. And never was this more true than when Lee Westwood picked up a putter which Mark Calcavecchia had discarded and promptly won with it on Sunday in the Valle Romano Open de Andalucia in Spain.
The American tried a Ping prototype in the first round of the PGA Tour's POD's Championship in March but committed it to the bin after 36 putts in his first round. He switched to a Ping Redwood Anser putter (he bought it in an Edwin Watts store!) for the rest of the tournament and won in record-setting fashion.
The black-headed prototype putter, a fully machined, aluminum mallet design with an Anser-type hosel, resurfaced in Westwood's hands after the Englishman retrieved it from the Ping Tour van at the Shell Houston Open.
After experimenting with it at the US Masters, Westwood arrived in Andalucia with several other putter models, including the Ping ' lil'l c' mid-length putter he used in an opening round of 72. After more work on the putting green, Westwood switched back to the prototype and his eight birdies course record 64 convinced him to stick with it. A third round 65 and final 67 assured him of victory.
Fittingly, he holed a 40-foot putt for par on the final hole to seal the title, and the fate of the Ping prototype putter.
Westwood later revealed: "I'd brought out five putters in anticipation of the way things have been going. I used the prototype for the Masters first round and vowed I'd never use it again. But I gave it another chance and it suited the greens here.
"It seemed to roll the ball well on these greens and anything would have been better than round one. I don't think yesterday's putter is going to be seen for a while! I also went cross-handed, which is something I've not done for years, and felt a lot more comfortable."
Later he added: "I couldn't tell you the last time I used the same putter for an extended period of time. I'd say there's about 200 in the garage and Ping will be ringing me to get some of them back! I've even got about six belly putters of varying length, depending on my 'size' shall we say!"
Westwood is full of confidence going into the PGA BMW Championship at Wentworth next week - an event he has never won.
Tell us about your hoard of putters on the forum. Have you stuck with one or two or do you consistently change depending on your form and your mood?
Perhaps you'd like to sell one or two? If you've got equipment to buy or sell second hand, use our popularclassified section.