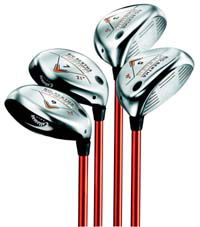 Big Bertha Fusion fairway woods
Are fairway metals making a comeback? Have they ever been away? Certainly Callaway golf is hedging its bets with the latest Big Bertha Fusion fairway woods.
Having introduced its Heavenwood utility clubs as a 'if –you-can't-beat-'em-join -'em' response to the growing popularity in rescue and combination clubs to replace long irons, the Chessington-based manufacturer is extending its Fusion brand.
Effectively it's adding to the 'Con-Fusion' by making choices even harder for golfers looking for clubs to occupy that comfort zone between driver and 5-iron in their bag.
Personally, I wasn't a convert to the Fusion driver, but I loved the Fusion irons and Callaway claims that the technology included in these fairway metals 'delivers distance and accuracy in a hot new package.'
"The striking burnt orange and black graphics will define all the new woods in the Fusion line," says Callaway.
The makers says that because carbon composite material is lighter than stainless steel, the centre of gravity of the clubhead is low and set back to produce a piercing ball flight from almost any lie.
Big Bertha Fusion fairway woods come with the Aldila NVS 55 graphite shaft (available in stiff, regular and light flexes) and in six models for right-handed golfers (3-, 3 plus, 4-, 5-, 7- and 9-woods) and two for left-handers (3- and 5-woods) at a suggested price of £249. Call 0208 391 0111 for your nearest stockist.