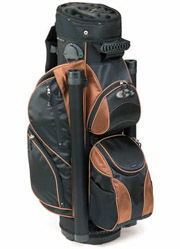 Bag Boy's Deluxe bag
There are few sounds more exasperating on a golf course – apart from FORE! – than clubs clanking together as their owner marches along.
And it seems to resonate at the most irritating moment - as you're stooped over a three-foot putt, or about to unleash a driver down the narrowest of tree-lined fairways.
Now Bag Boy, one of America's leading manufacturers of golf bags, trolleys and travel covers for more than 50 years, is launching its new NXO Series trolley bags featuring patented Grip-Lok Technology at the London Golf Show this week.
Both the NXO Deluxe and NXO Plus models incorporate the innovative Grip-Lok system that locks clubs in place, preventing them bashing against each other and damaging heads and shafts. It even stops clubs falling out if, as occasionally happens, the bag is tipped over.
Fourteen club sleeves surrounded by five soft, durable rubber 'teeth' hold clubs in place and prevent them knocking together even over the most bumpy ground.
Says Craig Ramsbottom, president of Bag Boy: "Grip-Lok Technology allows golfers to conveniently protect their investment."
The NXO Deluxe also features 12 functional pockets for convenient storage, a removable cooler bag for drinks, handy external putter sleeves, and an exclusive Strap-Lok System to prevent bags twisting on the trolley.
Recommend price is £109 (or £120 direct from www.tgigolf.com including delivery). Alternatively call 01506 505525 for your nearest TGI dealer. The NXO Plus costs £95 (£106).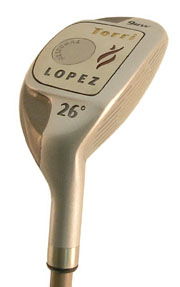 Nancy Lopez Torri club
Also on display at the London Golf Show are the latest produicts from Bay Hill and the women's range of Nancy Lopez (Stand 1046).
The new CT3000 box sets from Bay Hill feature a customized concept called Instant Fit, providing clubheads, shafts and lie angles to instantly match a golfer's height and build.
The new Torri design of golf clubs from Nancy Lopez Golf. Feature a distinctive 10-piece set designed for women to help improve distance, control and trajectory. The tungsten insert in the sole of each creates a lower centre of gravity and help more into the air and the Match Play Process personalises clubs through grip size, shaft length and flex.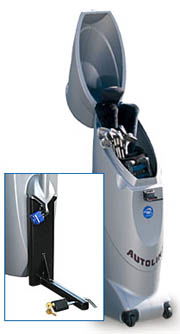 Autolink case with adaptor (inset)
Another innovation at the show will be the Autolinx travel case and rack which bolts on to the back of your car to create extra space
Said its inventor Ron Hesmer: "I never realised how many people shared in my frustration until I started using the initial prototype and complete strangers approached asking where I bought it."
The hard-shell case is also suitable for airline travel and comes with an adapter to attach it to the boot of your car. You can see one in action on Stand 933.
Tickets to the event cost £10 in advance, or £15 on the door; under-16s will be charge £5 in advance or £7.50 on the door. Tickets available from www.ticketmaster.co.uk or by calling freephone 08701 451205.