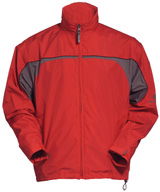 Sunice Dornoch jacket
Leading brands in the golfer protection business will have a rival to compete against this autumn.
Sunice weatherproof clothing is heading from Canada to cook up a storm and take on top names in the UK like ProQuip, Nike, FootJoy, Callaway, Ping Collection and Sunderland of Scotland.
The Sunice range will be part of the Leeds-based USP Brands and aimed at British and Irish golfers prepared to brave the elements in practical weatherproof clothing.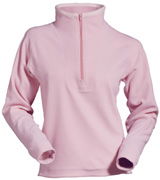 In the pink: Sunice women's fleece
The distributors claim that golfers will soon have fresh, functional alternatives to the usual classic black and navy colours, with brighter shades of red, blue, green, orange and ice (white).
As well as a men's collection, featuring the Weather range of water repellence and wind protection and the Hurricane waterproofs, there's a stylish Typhoon and Weather women's collection with similar Gore-TEX technological features and fabrics.
Prices will range from Weather windshirts at £30 to Hurricane suits at £250, from Storm jackets at £55 to Tornado tops at £70. Typhoon women's suits will cost around £120.
For your nearest stockist, from August, call 0113 387 7710.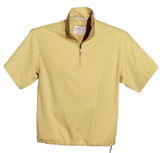 Aqualite short-sleeve windshirt
Rival waterproof clothing brand ProQuip, meanwhile, has been exhibiting at the London Golf Show with three new products designed for spring to autumn wear in the UK's indifferent climate.
On display was the fast-selling Aqualite Elite, waterproof suit (£149) and the women's UltraLite suit (£179). ProQuip was also promoting its Aquasoft Wind range of zip-up, sleeveless, short sleeve and long sleeve tops with prices varying from £32 to £44.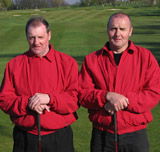 ProQuip winners - the Bradley brothers
The company also recently completed its ProQuip Winter Challenge in which two brothers from Omagh in Northern Ireland - Eugene and Michael Bradley – claimed the title at the Marriott Dalmahoy Hotel course in Scotland.
Over 600 clubs took part in the event with eight finalists competing for the title over two days. Eugene (51) and Michael (43), eventually emerged as winners on the last green by one point over Colin Pearson and Chris Thompson of Hexham.