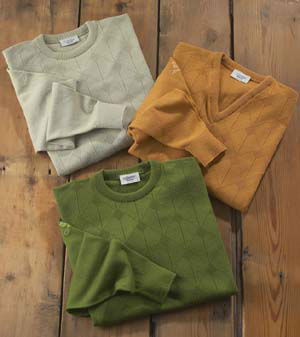 New patterned sweaters from Glenbrae
Knitwear brand Glenbrae Golf is launching new versions of its innovative Spirol seamless lambswool sweaters in three novel colours.
The Yorkshire company, which established its plain crew and V-neck sweaters over several years, plans to introduce pattern texture options in stone, ochre and a distinctive olive green, in November.
Named 'Spirol - By Design', the autumn/winter range features a fashionable 'Diamond Linx' pattern on the front as part of the seamless knitting process. Recommended price will be £49.99.
Says Glenbrae Golf's Giles Birkhead: "Customers have requested that we introduce a pattern into our range and early reaction has been extremely positive."
Glenbrae's yarn-spinning process blends Merino lambs wool with Spirol, creating a one-piece seamless garment instead of the traditional sewing together of front/back panels and sleeves.