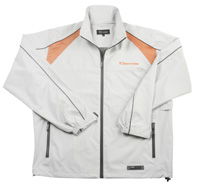 Benross Extreme jacket
Benross Golf, already firmly established with its range of clubs and bags, plans to introduce waterproof rainwear in the Autumn.
There'll be four jacket models - Extreme, Executive (full length zip), Summit and Sport, all with colour co-ordinated trousers available. Features include stretch fabrics and second skin linings for enhanced breathability.
There's also a choice of striking colours, including black electric and red and fashionable design styles, with zip-off sleeves and great attention to detail. Each waterproof item has a three-year waterproof guarantee.
The range include Summit half- zip and Extreme full-zip jackets (£79.99), Sport half-zip top (£59.99) and Executive full zip top (£59.99). All have zip-off sleeves.
A Sunrise wind top costs £39.99 and the Executive Ladies top in black/lilac costs £59.99. Black trousers, for men and women, to complement the range cost £39.99.