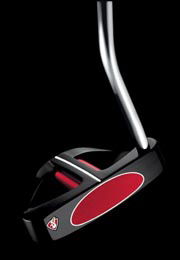 TaylorMade Monza putter.
Peter Hatton from Portsmouth says he has dramatically reduced the number of three-putts since buying a TaylorMade Ross Monza putter.
The 48-year-old supervisor in the electronics industry plays his golf with his son at Hamptworth on the Hampshire-Wiltshire border and says: "I know putters come and go like the seasons but I can't ever imagine changing this one."
The 19-handicapper is one of three Golfmagic visitors to send in winning submissions to our user reviews during September and wins a carry bag courtesy of County Golf Direct.
"I started playing about five years ago after being badgered by my son to take him to a local course. We tried our luck on a Par-3 course at Hayling Island and really enjoyed it, had a few lessons and fell in love with the game. We're both hooked now and have hardly missed playing every week," said Peter.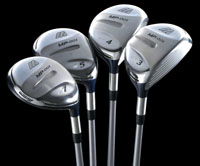 Mizuno MP001 fairway metals
Paul Dulac (27) from the Wirral is a 17-handicapper at Brackenwood Golf Club who told us about his Mizuno MP001 fairway metals which, he said, produced 'long, accurate and controlled ball flight from the tee, the fairway and short rough.'
"They're now available with graphite shafts for around £100 each and an absolute steal considering the quality of the clubs," said Paul, a building surveyor who has been playing for 18 months and has just won his first monthly medal with the Bedford Golf Society.
"But it was a bit of a let down as there were only three other players!"

Big Bertha Steelhead III fairway wood
Completing our winners is Robin Lycett Smith from Stafford who claimed his Callaway Big Bertha Steelhead III 5- and 7-woods are 'a great alternative to a rescue club'.
"They are very versatile and I used them for tee shots, off the fairway, out of the rough and even for greenside chips," said Robin, who works with autistic teenagers for his local social services and admits to being 'obsessed with golf.'
"I currently have no home club or handicap, but have been playing for about two years and on a good day can shoot in the low 80s. I also spend a lot of time practising and play about twice a week in the summer, once a week in the winter," said Robin, who is looking for advice from Golfmagic visitors on a recommended course to join in his area.
*Tell us about your golf equipment – clubs, balls, bag, shoes, waterproofs – by submitting a user review this month. You could win one of three golf bags we're giving away.