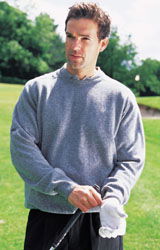 Ping Collection's Kipton v-neck
There's a chill in the air as autumn approaches and Ping Collection and Glenbrae have chosen this time wisely to introduce new knitwear.
Ping's Kipton model is a traditional, plain crew-neck sweater with raglan sleeve styling available in a choice of grey marl, mulberry, sand marl, ink and black). Each has the distinctive Ping logo on the sleeve and a suggested retail price is £45.
The Dally sweater (£45) is the v-neck equivalent and available in four colours and to complement the style is Solworth (£50) crew featuring a textured knit body and plain sleeves. Available in grey, sand and black marl.
Details of the range and nearest stockists are available at www.pingcollection.co.uk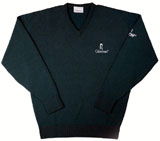 V-neck from Spirol
First introduced last year, Glenbrae's Spirol, with its revolutionary seamless technology is launching a V-neck long sleeve and slip-over to supplement its original crew neck design.
Giles Birkhead, Glenbrae's general manager commented; "The breadth of range of 18 options will now ensure that whatever the golfer's style or colour choice they will be able to benefit from the unique performance qualities offered by Spirol Seamless Technology. Sizes range from XS to XXL with prices recommended from £39.95 for the sleeveless to £49.95 for the long sleeve crew or v-neck.
Spirol is a high-tech yarn-spinning process blending Merino lambs wool to produce in one entire piece, three-dimensionally, directly on the knitting machine for increased elasticity ad improved shape and durability.
For further information on Glenbrae knitwear or your nearest stockist call 01484 843732 or visit www.glenbraegolf.com