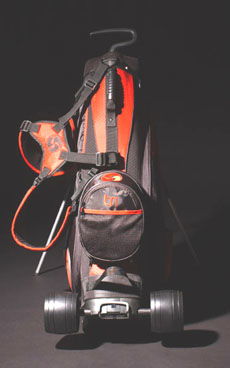 TriBag with built-in wheels
A new golf bag, with built-in wheels, is due to be introduced into the UK in May after a promising launch at the PGA Merchandise Show in Florida.
One enthusiast claimed it would "revolutionise the golf industry," while another said it would be the "retail success story of the year and is destined to fly off the shelves in record numbers."
The bag has detachable wheels, a telescopic hand grip, dual strap and tripod stand making it extremely versatile for pulling, carrying on strapping on to a buggy.
However, while the small circumference wheels would make it appropriate for travelling through airports, surely it would be less adaptable to use as a pull trolley on grass – as any parent who has tried to drag a pushchair through a park will testify.
It's innovative and colourful and deserves an opportunity to succeed and has a recommended retail price of £120. For further details call TriBag Ltd on 0845 1704 704 or visit www.tri-bag.com