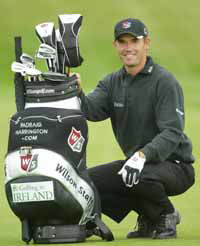 Harrington with his Wilson bag on which the new series are modelled
Padraig Harrington's regular appearances on television as Europe's leading player in the world rankings (currently 8th) has helped the Irishman play a major role in promoting Wilson bags.
Now with new technology and features, the distinctive Wilson Staff bag range, just released, is set to make a big impact in this competitive field, where top manufacturers get a chance to place their brand in front of millions.
Based on the 11-inch wide bag used by Harrington, the 9.5-inch Wilson Staff Club Pro (£149) is the premium bag in the range and features six dividers with graphite protection and two full-length dividers. Attached to the bag is the Double Entry Quick hood for front access to or rear access to woods.
The Triple X cavity strap has been ergonomically designed to shift weight towards the body and prevent sliding. Nine large pockets, including an umbrella sleeve, valuables pocket and thermal insulated pocket offer plenty of storage.
Weighing only 3.3 lbs. the Wilson Staff Levitator (£59) is available in three colours and is the lightest carry bag ever produced by Wilson. Made from water-resistant Nanolon fabric, it also includes a lightweight stand, five way dividers and Swivelmax strap, which can be converted from single to double.
There are six pockets (three closed) and a new water-resistant pocket with a special zip.
The Cart Deluxe (£119) has nine closed and five open pockets, including two water-resistant and a velour one for valuables pocket. There's an inside pocket for shoes, too. It has a nine-way top divider and putter well and a Triple V Cavity Aero strap.
Other bags include Cart Plus (£99) in navy, dark red and black and Carry Plus (£99) with 10 pockets and Aero Swivelmax strap.